National level seminar in prelude to 8th International Yoga Day organized by Govt Yoga College and Ayush Department Chandigarh: Govt. College of Yoga Education and Health, Sector 23 A , Chandigarh in collaboration with Directorate of Ayush , Sector 24, Chandigarh organised a one day national seminar in prelude to 8th International day of Yoga on the topic YOGA AND ITS ALLIED ASPECTS at Rani Laxshmi Bai Mahila Bhawan , Sector 38, Chandigarh.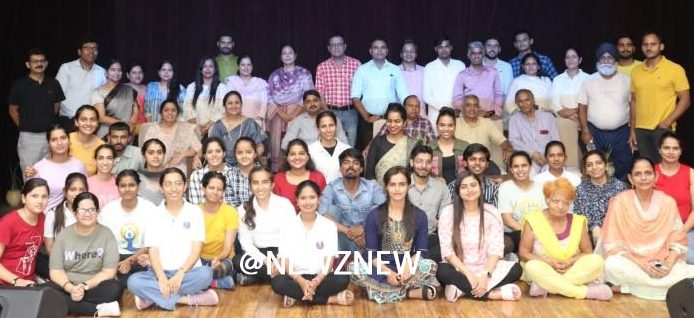 The principal of the college Dr. Sapna Nanda welcomed the Chief Guest of the occasion Ms. Nitika Pawar IAS, secretary personal, Chandigarh Administration and Mr. Akhil Kumar , Director AYUSH, Chandigarh Administration guest of honour for the occasion.
The inaugural address was given by Ms. Nitika Pawar IAS in which she stressed upon the importance of health and wellness with the help of Yoga and other allied areas.
Dr. Jaideep Arya, Chairman, Haryana Yoga Aayog, the special guest of the occasion stressed on the need of Yoga in the current scenario which will further increase the health prospects in India.
Another speaker Rammi didi from Art of living spoke on the importance of Raj Yoga . Ms Poulomi from Art of living gave a lecture on meditation for enhancing concentration along with which some practical activities were also taken up.
Lt. Gen. J.S. Cheema , Vice chancellor of Punjab sports university gave a talk on the significance of Yoga in the modern world. Sh. S. P. Pathak ,Assistant Professor, HPU gave a speech on Yoga for body and mind in which he explained the relationship and impact of Yoga on both. Moving ahead, a lecture on the Research in the field Yoga was delivered by Dr. Akshay Anand , Professor , Neurology department, PGIMER, Chandigarh.
After the break Dr. Shyama Priya , ayurvedic consultant gave a session on Ayurvedic diet and lifestyle for effective yoga. After that Dr . P. N .Gupta , Specialist in Alternative therapies shared his views on Alternative therapy for complete well being. Ms. Prabhjot Atwal, Nodal Officer Nasha Mukt Bharat Campaign, Chandigarh emphasised on drug de -addiction through Yoga.
The seminar ended with bhajan sandhya by Dr. Gunanidhi Sharma of Govt. College of Yoga Education and Health, Sector 23A, Chandigarh. The comparing was done by Ms. Sarghi Kohli , Yoga instructor and the co-ordinator of the event was Mr. Roshan Lal, Yoga Instructor. Among all the events was also graced by Dr. Bharadwaj, deputy director , AYUSH, Dr. Manjushree, Nodal officer NAM , AYUSH and Dr. Rajiv Kapila from AYUSH. The seminar was attended by 200 participants.