newznew (Ludhiana) : It was day high on fashion and glamour when Neha arora and Seema Arora owners at The bridal india hosted the speak Peak preview of their exhibition where in we saw designers from Delhi to put the fashion on front. Much celebrated designers like Shweta singh of perfect impressions, Payal sethi of Mem-a-Saab , Neelu Chadha of Sei Bella were there to display their new collections.
Neha Arora & Seema Arora further on the concept of The Bridal India said that The Bridal India has lot of USP's to its credit. We are bringing the designers from the most fashion acclaimed cities of India including Delhi, Mumbai, Jaipur and more. We are bringing the mix of Designers who will have casual, pret, couture and luxury collection. The Bridal India will have the fashion solutions for each and every pocket. With luxury as its defined motto, the Bridal india is set to happen in April at Ludhiana's best Hotel- The Maharaja Regency.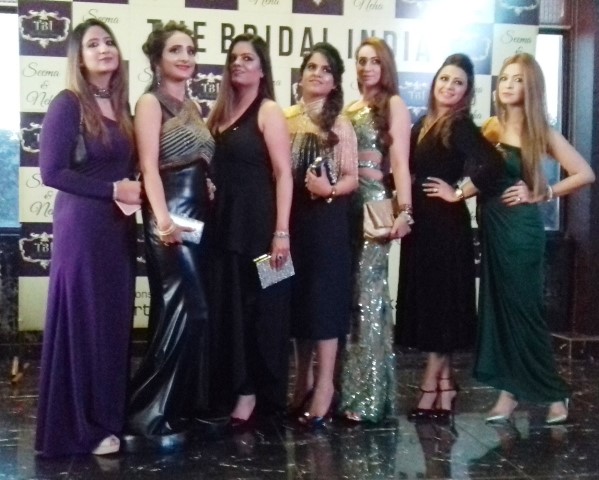 Out of the 60 stalls that will bring the best in fashion world, Delhi based Designers were in Ludhiana recently who were part of the Sneak Peak preview. Shweta Singh of Perfect Impressions says that Perfect Impressions by Shweta Singh revolves around the concept of making perfect impression by mannerisms, etiquette and right dressing! Shweta Singh says- if you are going to make an appearance, make it the RIGHT and PERFECT one and that all Perfect Impressions all about!!!  My New collection has mix of crop tops, blouses, Tunics, Skirts, Boho dresses, Jumpsuits, Shrugs and more.
Not only has this collection had also accessories to compliment the look. Perfect Impressions by Shweta Singh has accessories that has Chic belts, Boho inspired neckpieces and more. Payal Sethi from Mem-a-saab Said My New collection is all about exclusive designs ranging from fantastic cuts to the finest fabrics around . We bring to you stupendous collection of traditional Indian aesthetics, modern flair and a fusion of both. Best known for her innovatory floor touching gowns, lehenga-cholis and anarkalis, We contemporary elegant fashion for all occasions.
The Bridal India by Neha Arora & Seema Arora is India's biggest Exposition for the premium in Briday finery, apparel and products. Scheduled in April 2017 in Ludhiana, the Briday India promises to bring the best of shopping platform for you.  It isLudhiana' s first of its kind Exhibition that brings together the best of Designer to exhibit, best of people to buy it and also is best of platform for people to know where Fashion is going .
Neha Arora & Seema Arora Said that Punjab is a place that has two different aspects to shopping, one is very Daily wear and other is very high end. Keeping that in mind We thought of bringing Exhibition that satisfies shopping need for all. Be it masses or classes. So special exhibition day, that provides women with all her fashion and lifestyle worries, is a must day for each fashionista and That's What The Bridal India is all about. The Bridal India is all about Enbracing New trends. It is a one stop solution for Customers to buy their Fashion solutions. The Bridal India has been a path breaking concept on various levels from introducing premium and celebrated from across the borders to the Indian audience to bringing various facts of trousseau shopping under one roof.