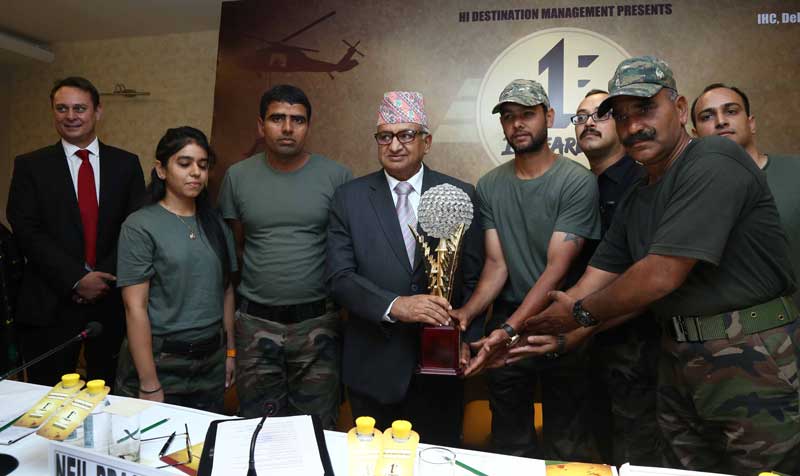 NewZNew (Chandigarh) : HI Destination Management Private Limited launched 1st Fearless, one of its own kinds Disaster Management Program to train people physically and mentally to manage disaster on a national scale, in a Press Conference at Indian Habitat Centre, New Delhi. The company has pioneered in the training of India's first privately owned Disaster Management team along the lines of the Indian Army.
Disasters and their management generally get discussed in their aftermath but practically it should result in planning and preparing the strategy to tackle and mitigate disasters in a responsible and effective manner. To salvage the situation, Disaster Management techniques are applied to bring respite to the affected area.
JK Sinha, member of the National Disaster Management Authority (NDMA) said, "It's time we treated Disaster Management with as much respect as we treat the dynamics of economics in commerce. After all, we talk of damage control all the time and usually as a reactive action. In the west, the idea is built into Human resource initiatives and employee productivity programs."
The training module based on the lines of Indian Army is a four day training program which is carried out in The Tiger Reserve of Bandhavgarh, Madhya Pradesh.
Sachin Sharma, Director HI, spoke volume of his vision regarding the program, "Disaster Management is a national core expertise that needs both time and funds. Yet, even today, such misfortunes are still largely at the helm of Indian Army who stretches its meager resources to muddle through such mishaps. Our main aim is to prepare some hard souls who can carry out rescue operations at the time of natural calamities".
India's first private Disaster Management team has deployed its team of 10 specially trained personnel for relief and rescue operations in the Earthquake affected areas of Nepal, they are working closely with Red Cross Society and Nepalese Army.
Nepal Ambassador, His Excellency Deep Kumar Upadhyay expressed his gratitude on the boundless help India offered to them, "I have interacted with the 1st Fearless team closely and I feel it is absolutely necessary for every individual to undergo this training so that everyone can be of use in such hard times and become the army of the land. I am honoured to present the trophy as a token of appreciation to the 1st Fearless team for extending a helping hand to Nepal. They have become a shining example working for this humanitarian cause."