Punjab seals investment worth Rs. 9500 crore in less than one year
Punjab all set to become first online state in the country
Announces to hose Progressive Punjab Investment Summit on October 28 and 29
Extends invitation to FICCI to host next national executive committee meeting at Amritsar
NewZNew (Chandigarh) : Deputy Chief Minister Mr. Sukhbir Singh Badal today invited Federation of Indian Chamber of Commerce and Industry to build world class Convention cum Trade Center in Sahibzada Ajit Singh Nagar for which adequate chunk of land will be provided by the Punjab Government. He also gave a call to FICCI to become active partner of Punjab in industrial development.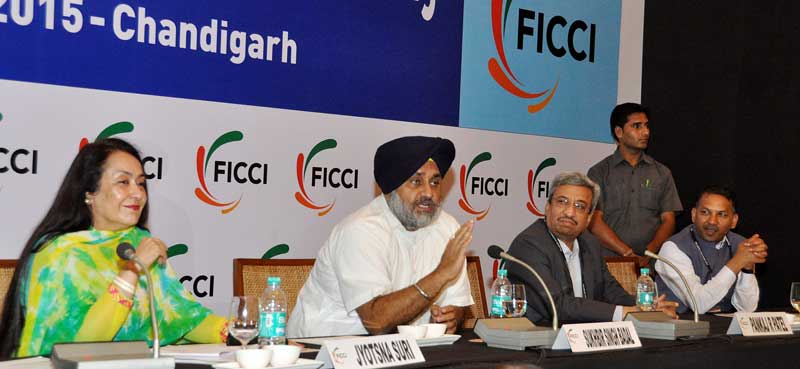 Describing Punjab a most preferred investment destination, Mr. Badal informed the FICCI members that Punjab has sealed investments investments worth Rs. 9500 crore in less than one year. He also extended invitation to FICCI to host next National Executive Committee Meeting at Amritsar.Revealing that negotiations for big investments with global leaders in Punjab were on advanced stage of completion Mr. Baal also announced that Punjab would host next Progressive Punjab Investment Summit on 28th and 29th October at SAS Nagar.
While delivering his keynote address during national executive committee meeting of Federation of Indian Chambers of Commerce and Industry (FICCI) here Mr. Badal announced that Punjab would be the first state in the country by the end of this year to have the entire state, its departments and villages online. He said with the effective implementation of e-governance, e-district and e-sarkar projects, the state was on the brink of providing all the citizen services through online mechanism. He said that his vision of making Punjab 'online rather than inline' was on the edge of completion so that people could avail more than 200 citizen centric services under one roof. He said under this project more than 2500 sewa Kendras were being setup in the state, which would become operational by July this year.
Giving a clarion call to top industrial houses to invest in Punjab, Mr. Badal said that instead of being a landlocked and border state, it has been contributing more than 65 percent food in the central food kitty for the last several decades. He said that in short span of time Punjab has secured new scales in industrial investment sector as more than 180 companies have approached under 'Invest Punjab' with an investment of Rs. 10,000 crore. He said that world class infrastructure along with land banks has also been created to facilitate industry in the state.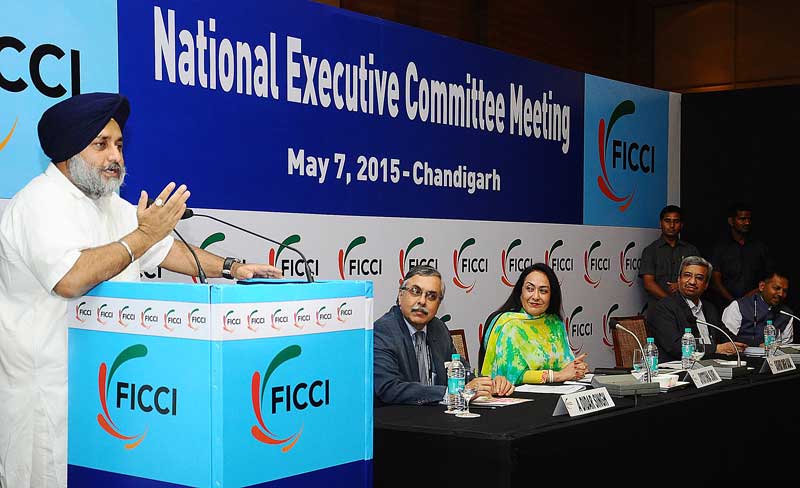 He appealed the members of FICCI that Punjab has fulfilled all the required amenities in the state including air connectivity, world class road network, 24X7 uninterrupted power besides constitution of Punjab Bureau of Investment Promotion (PBIP) to provide all clearances within 30 days. He said time has changed now and it has become profit making corporation with an upgraded ranking in the country. He said that PBIP has been also providing clearance and NOCs to industrial houses within 37 days presently but the set deadline was 30 days. He said that in coming months this service of one stop clearance will be provided within a month. He said that Punjab was focusing on holistic and uniform development of urban as well as rural belts in the state.
Briefing about the current status of Power scenario in the state, Mr. Badal said that Punjab has become power surplus and now the state government has constituted a committee to sell the power. He said that when they took the reins of Punjab in 2007 the Punjab State Electricity Board was facing acute deficit and low ranking in the country.
Commending the role of FICCI for representing as bridge between government and industry, Mr. Badal said that Punjab has initiated exclusive plan of 90 percent VAT retention with a window of 10 years, which was first of its own kind in the country. He said that Punjab Government was committed to provide required facilities and infrastructure to industrial houses under 'invest Punjab' and they should land in Punjab with projects.
Mr. Badal also announced to host next Progressive Punjab Investment Summit on 28th and 29th October at Sahibzada Ajit Singh Nagar. He exhorted the FICCI members and other industrial houses of country and foreign shores to actively participate in the summit.
Extended invitation to FICCI to host its next national executive committee meeting at Amristar, Mr. Badal also announced to provide an adequate chunk of land to FICCI for setting up of its world class corporate complex. He said that Punjab government would provide the land in Sahibzada Ajit Singh Nagar where it could set up its complex including convention centre, meeting halls, auditorium, regional office etc.
Earlier in his welcome address President FICCI Dr Jyotsna Suri MD Bharat Hotels announced that association will hold its next national executive committee meeting at Amritsar next year and explore to setup its north office in Punjab. Revealing its welfare projects she informed that FICCI would adopt a village in Lambi, Sri Muktsar Sahib besides setting up a de-addiction centre at Amritsar and women empowerment project at Ludhiana. Vice President Pankaj Patel and Chairman FICCI regional advisory council Rajinder Gupta MD Trident Group also spoke on the occasion.
Prominent among others present in the meeting included CEO PBIP Anirudh Tiwari, Principal Secretary to Deputy CM PS Aujla and delegates of FICCI and major industrialists.