New World Best Weapons To Use 2021| Best PVP & PVE Weapons Tier List :
New World Best Weapons To Use 2021| Best PVP & PVE Weapons Tier List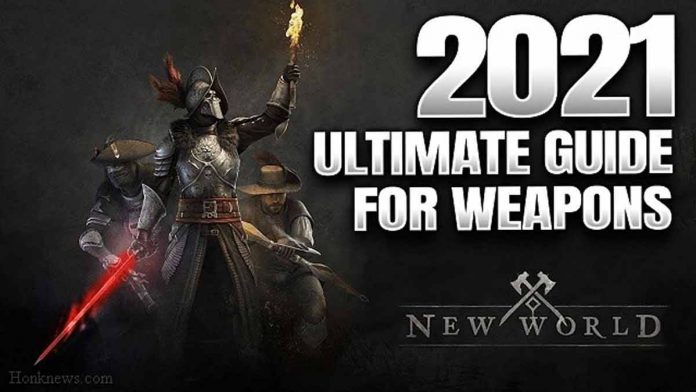 According to the beta, we list some best New World PVP & PVE weapons for you and this article introduces the best site for you to purchase New World Coins. If you are interested, please keep reading!
New World Best Weapons to Use
Hatchet
In the initial stages of Beta testing, Hatchet was considered one of the most powerful weapons. Hatchets scale primarily with strength but also benefit from dexterity. It is the best weapon for overall DPS, and what's more, it owns the strongest skill tree in this gameplay! Hatchets have two skill trees, Berserker and Throwing.
You will be surprised by the fast speed to kill enemies using Hatchet in PvE and PvP, and you can use it to combo with many other weapons. One of the main reasons Hatchet became the strongest weapon in the new world is that you can use the berserker tree, which is incredibly strong compared to other skill trees.
Fire Staff
The Fire Staff is considered one of the best weapons in the New World, which is a magic weapon and allows the wielder to cast spells as well as the attack at range. Fire staff has a great single target and AOE damage making it a top-tier DPS weapon. Not only this but the Fire Staff's damage scales with Intelligence.
Fire Staffs have two skill trees, Fire Mage and Pyromancer. Both the "Fire Mage" and "Pyromancer" trees provide very high damage skills and apply Burning. The Fire Mage skill tree allows users to effectively AoE mob farm and is generally suited for end game content. Pyromancer, on the other hand, is more geared towards PvP mode.
Life Staff
The Life Staff is a ranged weapon and support tool. Its "Healing" tree provides strong healing skills, while the "Protector" tree is focused on buffs for allies as well as other healing utilities. Life Staffs damage scales with focus.
Life Staffs have two skill trees, Healing, and Protector. Life Staffs are a primary support weapon. It scales off of Focus and is perhaps the only real option for players who want to play a healer and support role. Damage and support-based moves are both an option on the Life Staff.
Warhammer
Warhammer will probably be one of the most overpowered weapons in the New World. Although it is slow to use, it is not important in PvE. By left-clicking to attack, you can hit hard and use your ground and hard-hit abilities to destroy the battlefield.
The Juggernaut specification provides players with skills that can extend the damage of their weapons well. And at the same time apply debuffs through the armor-breaker. Your remaining points should be used for Crowd Crusher's debuffs and Shockwave skills and their improvements.