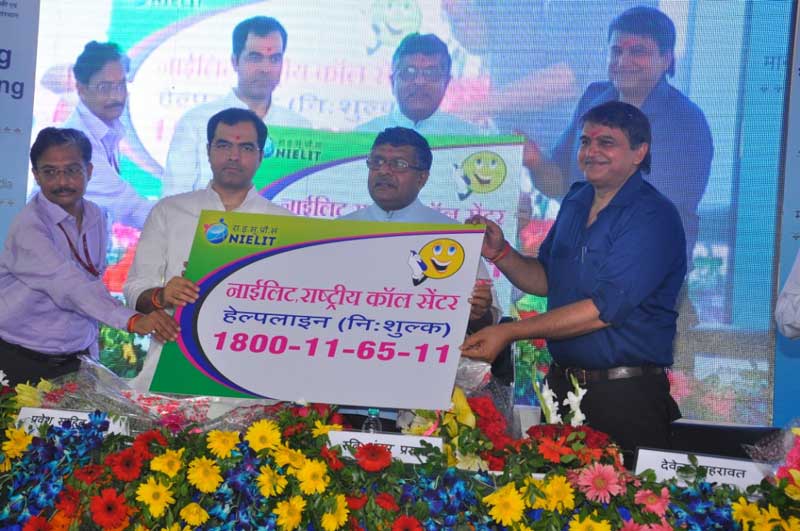 NewZNew (Chandigarh) : Highlighting the importance of skill development in making a success of the National Digital Literacy Mission and Digital India Campaign of the Government of India, the National Institute of Electronics and Information Technology (NIELIT), a body with the Department of Electronics and Information Technology (DeitY), laid the foundation stone of its headquarters at Dwarka in New Delhi today. A national toll-free helpline number 1800-11-65-11 for NIELIT students, Electronic System Design and Manufacturing (ESDM) portal and Digital Marketing Information Booklet were also unveiled on the occasion. NIELIT has trained over 20 lakh students in the last two decades across 31 NIELIT centres besides a network of about 900 accredited training partners and nearly 6000 facilitation centres. However, in-line with the Government's thrust on the Digital India Campaign, NIELIT has also set an ambitious target of training 55 lakh students in ICT for jobs, ESDM and Digital Marketing courses in the coming 4-5 years.
Shri Ravi Shankar Prasad, Union Minister for Communications and Information Technology, Government of India, delivered the keynote address on the occasion and also participated in a tree plantation initiative. Also present were Shri Parvesh Sahib Singh, MP, West Delhi, Col. (retd.) Devinder Sehrawat MLA, Bijwasan, Shri R.S. Sharma, Secretary, DeitY, Dr. Ajay Kumar, Joint Secretary, DeitY and Dr. Ashwini Kumar Sharma, Managing Director, NIELIT.
Delivering the keynote address, Shri Ravi Shankar Prasad said, "A digital revolution has begun in the country. NIELIT will be the centre of digital empowerment in India by minimizing the digital divide through skill development and by providing basic digital literacy at a click of a button. NIELIT's efforts to start digital marketing courses is commendable as artisans, traders etc from all corners of the country should be digitally trained to take full benefits of the ecommerce revolution taking place in the country."
Speaking on the occasion Shri Parvesh Sahib Singh, MP, West Delhi said, "India has the best brains globally and we need to nurture them. Dwarka is emerging as a centre of excellence and we're pleased that NIELIT which is an integral part of the Digital Literacy Mission is establishing its headquarters in Dwarka."
Addressing the gathering, Col. (retd.) Devinder Sehrawat, MLA, Bijwasan said, "Digitization in governance and of all essential services is a must. It is critical to address skill development issues in the country by giving institutions like NIELIT a growth impetus and I am sure that with a dedicated headquarters in Dwarka, NIELIT will be able to reach out to more students."
Dr. Ajay Kumar, Joint Secretary, DeitY said "It is commendable that NIELIT is raising funds by itself for the construction of its Headquarters and this speaks highly of its growth trajectory over the years."
Dr. Ashwini Kumar Sharma, Managing Director, NIELIT said "We are very happy to lay the edifice of NIELIT's headquarters which will help us achieve corporate professionalism, diversify and become more self-sustainable, thus helping us reach closer to our targets in-line with the National Digital Literacy Mission. At our headquarters in New Delhi, we plan to dedicate resources towards developing more industry courses, in areas like Digital Marketing, aimed towards employability of youth especially in rural areas."
More than 9 lakh candidates have been skilled by NIELIT in 2013-14 as against about 4 lakh in the previous year (2012-13). Due to high quality of standards, many Universities have accorded recognition to NIELIT's non-formal courses, for lateral entry to formal courses, such as MCA, MBA etc.