5th edition of CII Invest North inaugurated today – focus on facilitating investments &regional partnerships
NewZNew (Chandigarh) : It is interesting time to be in business in India. At a time when world economies are still reviving, India is being recognized a shining star globally said, Smt NirmalaSitharaman, Hon'bleMinister of State (Independent Charge) for Commerce & Industry, Government of India, while inaugurating the CII Invest North, at Delhi today. The Conclave being held in Delhi from 22-23 September brings northern state governments and potential investors face to face, to explore business and investment possibilities. With 26% share in national GDP, 27% of installed power capacity, 59% of dedicated freight corridors passing through North India, six states of the region exceeding national average per capita income, 40% of India's FDI flow, Invest North offers vast opportunities for investment.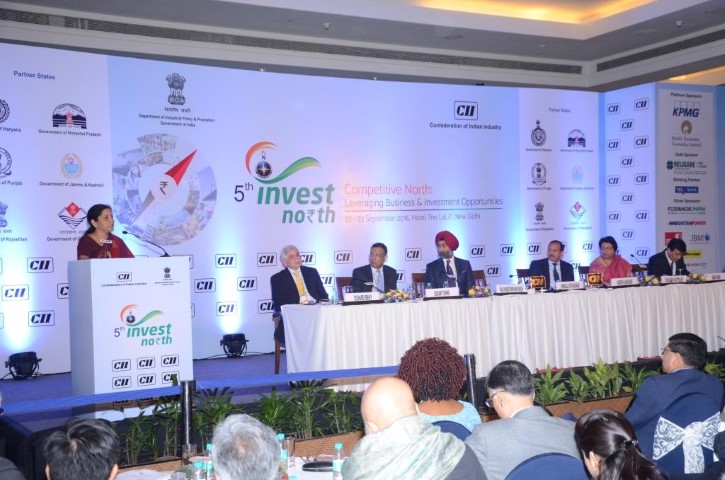 She said, the public investment in infrastructure creation, be it roads, highways, water ways network have gone up significantly in last two years. All this will help the northern states in a big way since it is a landlocked region. She invited the industry to come and interact with government particularly at a time when we are discussing GST. Any lingering doubt in regard to GST or on any policy matter in the minds of investors should be addressed by state& Central Government.
Hon'ble Minister also released the CII report on Investment Climate – A report on Northern States of India
Ramesh Abhishek, Secretary, DIPP, Ministry of Commerce & Industry in his keynote address highlighted the various policy reforms which have taken place in the last two years in making India a better place for doing business. DIPP is committed to the vision of Hon'ble Prime Minister Shri Narendra Modi to bring India in the top 50 countries by 2018 in ease of doing business he added.
Setting the context for the Conclave Malvinder Mohan Singh Chairman, CII Invest North 2016& Executive Chairman, Fortis Healthcare Ltd emphasized that partnerships are critical for success in today's competitive environment and expressed hope that in addition to facilitating investments in northern states, Invest North would also facilitate greater regional cooperation and collaboration.
RumjhumChatterjee, Chairperson, CII Northern Region & Group Managing Director, Feedback Infra Pvt Ltdduring her welcome address said that, while central government sets the overarching direction for reforms, but the real action and initiatives on the ground rest with the States. Therefore, it becomes imperative to focus on opportunities that lie in the states; Invest North facilitates that.
Speaking on the occasion, Sumant Sinha, Deputy Chairman, CII Northern Region & Chairman & CEO, ReNew Power Ventures, said that competitive federalism is driving the states to push reforms and create enabling policy and regulatory framework to attract investments. He illustratedthat in 2015 the northern states didn't perform too well on ease of doing business rankings. However, this year some of the northern states are frontrunners in the DIPP rankings.
Sharing the Investor's perspective, Richard Rekhy, Co-Chairman, CII Invest North 2016 & CEO, KPMG India said, the state governments, in lockstep with the central government, have unveiled several reforms making it easier to do business in India, than ever before. He further opined that the process which has been institutionalised by DIPP, through its annual state ranking has been a game changer in transforming India in terms of ease of doing business. He said this all will help the image of india as a better place for investment.
The 5th edition of CII Invest North is being held from 22-23 Sep at New Delhi. The event is partnered by Department of Industrial Policy and Promotion (DIPP), Ministry of Commerce & Industry, GoI and states of Haryana, Himachal Pradesh, Punjab, Rajasthan, Jammu & Kashmir and Uttarakhand. Over 650 delegates from across the country and diplomats from over 35 countries are participating in the event, to explore investment opportunities in various northern states. In addition to the state sessions and one to one meetings with potential investors, focus sectoral sessions are also being organised – these are Opportunities in Defence Manufacturing, Renewable Energy, Start-ups and E-Commerce & Global Engagements for Growth.