NSS – National Integration Camp 2022 organized at Chitkara University, Punjab: The Department of National Service Scheme, Chitkara University, Punjab under the guidance and support from Ministry of Youth Affairs and Sports, Government of India and NSS Regional Directorate, Chandigarh organised a week long National Integration Camp at its campus.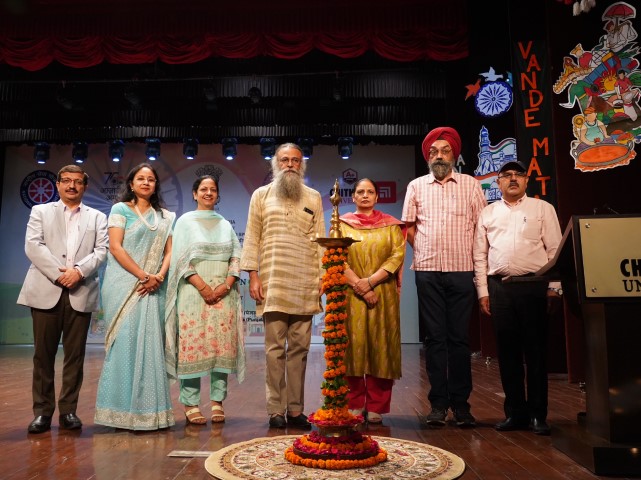 The camp was a congregation of 200 volunteers who came to Chitkara University Punjab campus from different states, different cultures and different beliefs but believe in the concept of "Ek Bharat, Shreshth Bharat". The warm welcome to the camp was provided by Ms. Harinder Kaur, Regional Director, National Service Scheme, Chandigarh.
The camp began with a grand inaugural ceremony which was graced by the Chief Guest, Prof. Arvind, Vice-Chancellor, Punjabi University, Patiala and SNOs from Punjab and Himachal Pradesh and Dr. Archana Mantri, Vice-Chancellor, Chitkara University, Punjab who got to witness this huge cultural exchange programme happening at Chitkara University.
The mornings of this marvellous camp begin on a peaceful note with Prabhat Pheris conducted by various states each day! Throughout the day, the volunteers are engaged in various fun activities like Rangoli Making, Henna Design, Paper walks, etc. Also, the volunteers get to be a part of different informative sessions like, "Art of Living", "Four directions One India", "AIDS Awareness", "Life Lessons from Gita" which are conducted by renowned personalities in the fields and it gives the volunteers a chance to take back something meaningful back home!! The evenings of the camps are dyed in colours of vibrant cultures of various contingents who come here for the camp and they get on to the stage to display their tradition, their dance forms, and their folklores.