Nykaa Brings its Beauty Bar to Chandigarh!: Nykaa, India's most preferred beauty and lifestyle destination, has brought back its hugely successful Beauty Bars with an exciting event at Chandigarh's Nexus Elante Mall.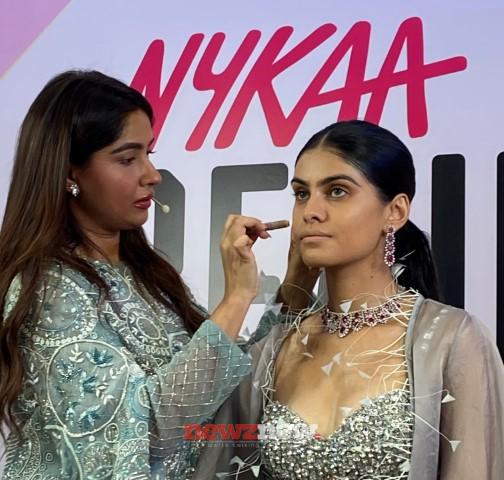 Over 100 beauty enthusiasts were treated to a masterclass with renowned makeup artist Tripti Malhotra, where they learned tips and tricks to create an ultra glamourous look, using some of the biggest brands such as Huda Beauty, Pixi, Nykaa Cosmetics, Murad, YSL, Kay Beauty and Sol de Janeiro.
Featuring makeovers with essential makeup, hair and skincare products, Nykaa ensured that every attendee enjoyed the session and left looking and feeling fabulous.
Chandigarh's resident makeup artist Tripti Malhotra created a signature party look that can be easily taken from day to night. She started by prepping the model's skin with the , Pixi Glow Toniccoupled with the Murad Vita-C Glycolic Brightening Serumand theHuda Beauty Hydrating foundation for a flawless base.
In true party style, she highlighted the cheeks with Kay Beauty Illuminating Highlighter in Sunlit Gold mixed with the Pixi On The Glow Blush in Ruby.She completed the look with glittery eyes using the Huda Beauty Empowered Eyeshadow Palette, the Kay Beauty Mascara and a nude lip using the Nykaa Matte To Last Lipstick in shade Janhavi.
As a finishing touch to the look, Triptiused the Yves Saint Laurent Libre Eau De Parfum on the model's skin and the Sol de Janeiro Bum Bum Body Cream for an instant glow.
Speaking about this much-loved consumer focused property, the Nykaa Spokesperson said, "Nykaa has remained committed to bringing the best brands, products, and trends from the world of beauty, closer to consumers in new and interesting formats. Our Beauty Bars have gained much popularity and love over the years, and we are thrilled with all the love Chandigarh has shown us. We will be hosting several such Beauty Bars throughout the year, across multiple cities, and look forward to creating memorable experiences for our consumers with some of the most sought-after brands, experts and offers in beauty."
An exciting and engaging concept by Nykaa, the Beauty Bars allow make-up enthusiasts to experience the latest trends, interact with some of the best brands and meet with experts from the world of beauty, in their home city. Follow the journey of Nykaa Beauty Bars at @MyNykaa on Instagram.