ONE RACE HUMAN RACE – The Half Marathon To Be Held On 9th December 2018 At New Delhi : Time to run for humanity! The Sewa inspired professionally managed Half Marathon event "Super Sikh Run" with two very successful editions in Delhi in 2016 and 2017 is back once again.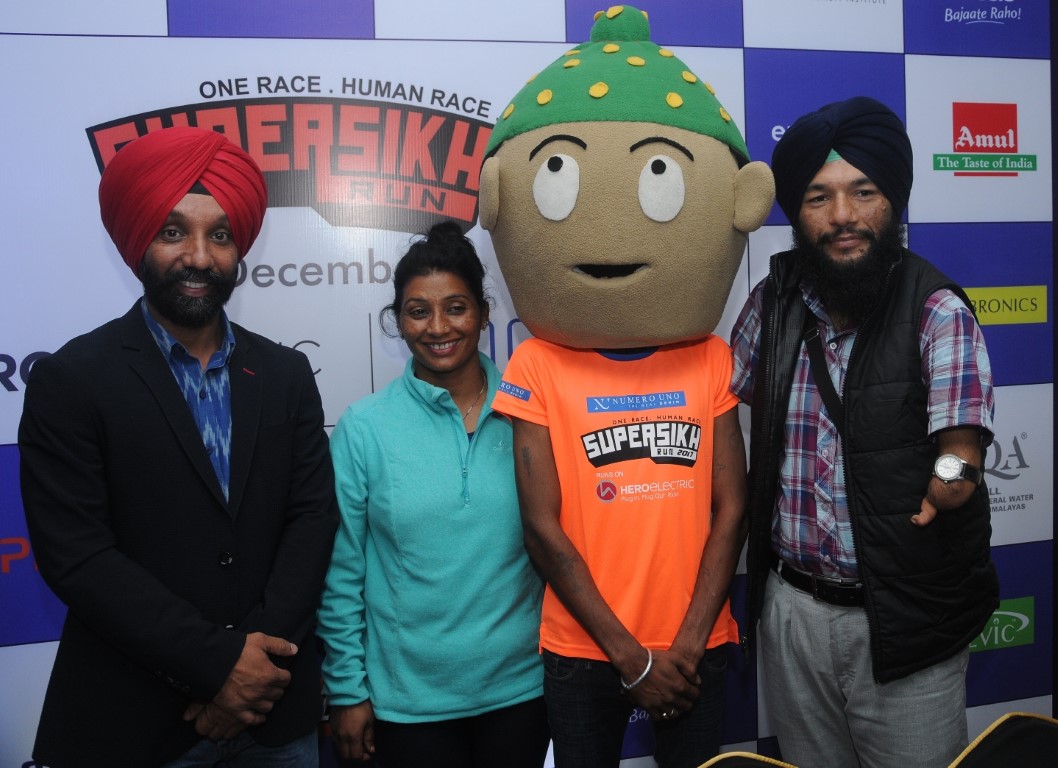 The third edition of Super Sikh Run is to be held on December 9 from the heritage site of Gurudwara Rakabganj Sahib in Lutyen's Delhi. This year of marathon is Run-De-Dilli.
Super Sikh Run –centered around the philosophy "ONE RACE HUMAN RACE"– is a marathon organized for all participants beyond the feeble barriers of caste, creed, religion, sex, race and the challenges thrown by life.
At present, Super Sikh Run has a global following and is loved by people from all over the world for what it stands for and is marked in the calendar of runners for the quality of organizing which makes it at par to any international running event.
Addressing the press meet Major Devender Pal Singh, a Kargil war veteran also known as the India's first blade runner and Super Sikh Run Ambassador said "We are proud of the fact that Super Sikh Run is today the most prestigious cause led Half Marathon race in New Delhi. This has been achieved due to the support and guidance that the event receives from the administration, patrons and participants alike.
Furthermore we are taking a step forward, the 3rd Edition of the Super Sikh Run 2018 would also witness an addition of a special category, that is, One Race साहस (Sahas). This will be category for Differently abled Athletes."
Besides giving sneak peek into the upcoming event the Super Sikh foundation officially launched their special run the Marathon t-shirt with the logo.
Also present, Jagwinder Singh the National Award Winner Paracyclist said, "It is a great honor for me to be a part of Super Sikh Run.  As the motive of this run is to inspire everyone to be super hero  by believing in themselves, I am sure this run will ignite a new flame among the millions of differently abled people to live like  real hero"
Speaking at the event, Mr. Naveen Munjal, Managing Director of the HERO Eco Group said "We are highly elated to join the Super Sikh family. Hero Electric always looks forward to form a part of such events which help uplift the human spirits. This run not only stands for its motto but also sends across the message of fitness among every age category. We as a brand proudly support the ideologies and motive of Super Sikh Run and work ahead to help it through"
Some other prominent people at the press conference included Mr. Sohinder Singh Gill, CEO, Hero Electric India, and Pritam Rani Siwach, former captain of the Indian women's hockey team
Super Sikh Run consists of 5 KM CHARDI KALA run, 10km ONE RACE and the most popular HALF MARATHON race for those who like to go the long way. All categories are chip timed and every runner receives a finisher's medal and electronic certificate.