Open auction of horses will be held at Homeland Chandigarh Horse Show: Chandigarh Horse Show has brought a new attraction for the horse lovers in Chandigarh this year. The Chandigarh Horse Show at "The Ranch", New Chandigarh will run for 7 days this year with a special attraction being the last day's 'Open Horse Auction'.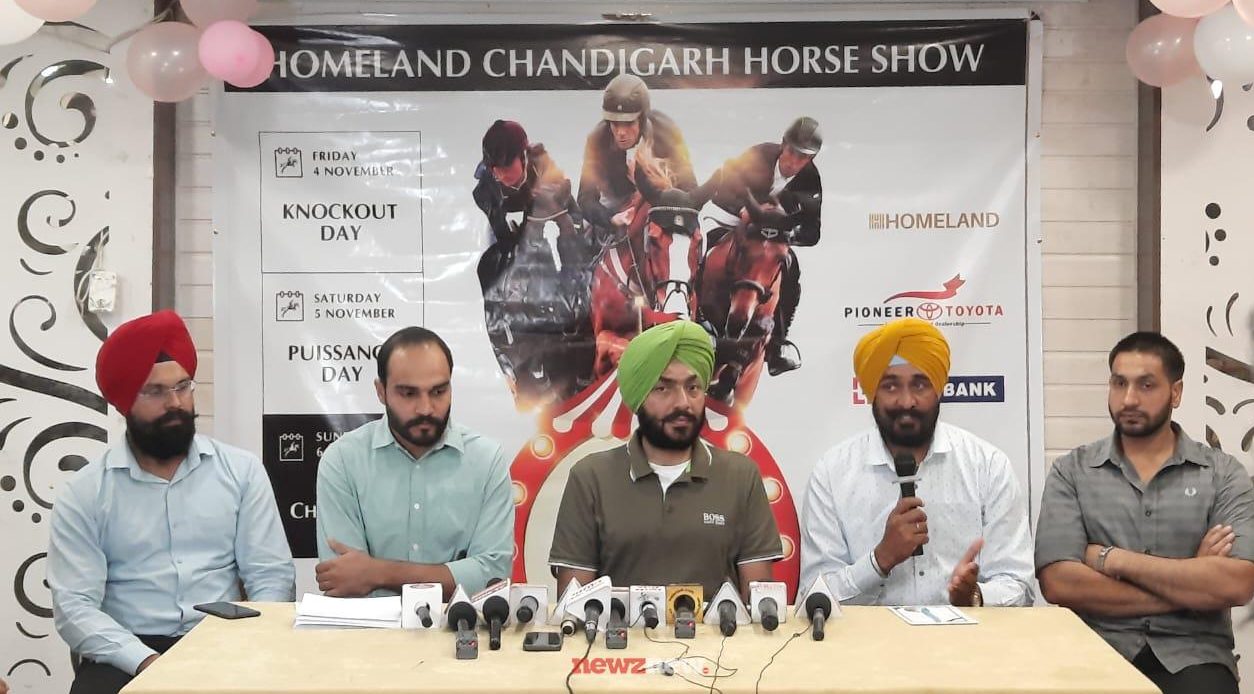 Horses of Warm Blood, Arabian, Gypsies, Marwari, Miniature Ponies etc. will be offered in this auction.
The organizers of the Horse Show gave detailed information about this by holding a press conference at the Press Club today.  Harsukhinder Singh Bubby Badal, Founder, Babbi Badal Foundation said that on November 7, the first auction sale of sports and rare breeds of horses will be held at all India level.
It will be an open auction for all in which anyone can take part.  The auction will start at 11 am, no prices have been reserved for bidding. This price will be decided on the spot only. Along with this, he told that the inauguration of the horse show will be done by Dr. Gurpreet Kaur Mann, wife of Punjab CM Bhagwant Mann and Manpreet Kaur, sister of Dr. Gurpreet Kaur, on 4th November at 11 am.
Deepinder Singh Brar, Harjinder Singh Khosa, Ranjit Brar, Sajneet Singh Sandhu were present along with Harsukhinder in this press conference.  Homeland Chandigarh Horse Show is a major equestrian festival of the region, which will be combined with a carnival experience for the masses.
This year, the equestrian competitions, starting 2nd November, will culminate in a 3-day mega carnival from Friday 4th November to Sunday 6th November.  The show will have competitions in the equestrian disciplines of dressage, show jumping and tent pegging.  All competitions will be conducted as per the guidelines of the Equestrian Federation of India [EFI].
He informed that the schedule of the show will be as follows: Opening Ceremony with Tent Pegging and Children's Gymkhana program on November 2 with Children Show Jumping on November 3 and Horse Parade on November 4.
Along with this, a dog acrobatics show is also being organized on 4 November. There will be a horse high jump competition on November 5th, Derby Day on November 6th as well as prize distribution. This year's Horse Show has been made even more exciting than ever.
Organized in partnership with the Bubby Badal Foundation, the week-long event will give an exciting experience to all. The show will first introduce the Chandigarh Derby on Sunday, November 6, powered by Pioneer Toyota.
It will feature the best horse and rider combination over natural obstacles on 1100 meters long tracks. Driven by last year's response, the Chandigarh Horse Show is expected to draw around 15,000 spectators this year.
One can expect curated food stalls, unique games for kids, horse conversations, arena walks with live music in the background and other events at this much-awaited show.
The official title sponsor of this year's Chandigarh Horse Show is Homeland, the region's leading realty brand, which shows its commitment to promote equestrianism in the region.