Osmed Healthcare Multispeciality Hospital launched in Zirakpur : Zirakpur got a brand new multispeciality hospital today. The Osmed Healthcare Multispeciality Hospital was inaugurated by Mr Vishav Nath Sharma (Father of Mr N K Sharma, MLA, Derabassi) and Mr Yadvinder Singh, Municipal Councilor, Zirakpur at a grand ceremony held at Defence Enclave, Lohgarh Road, Zirakpur.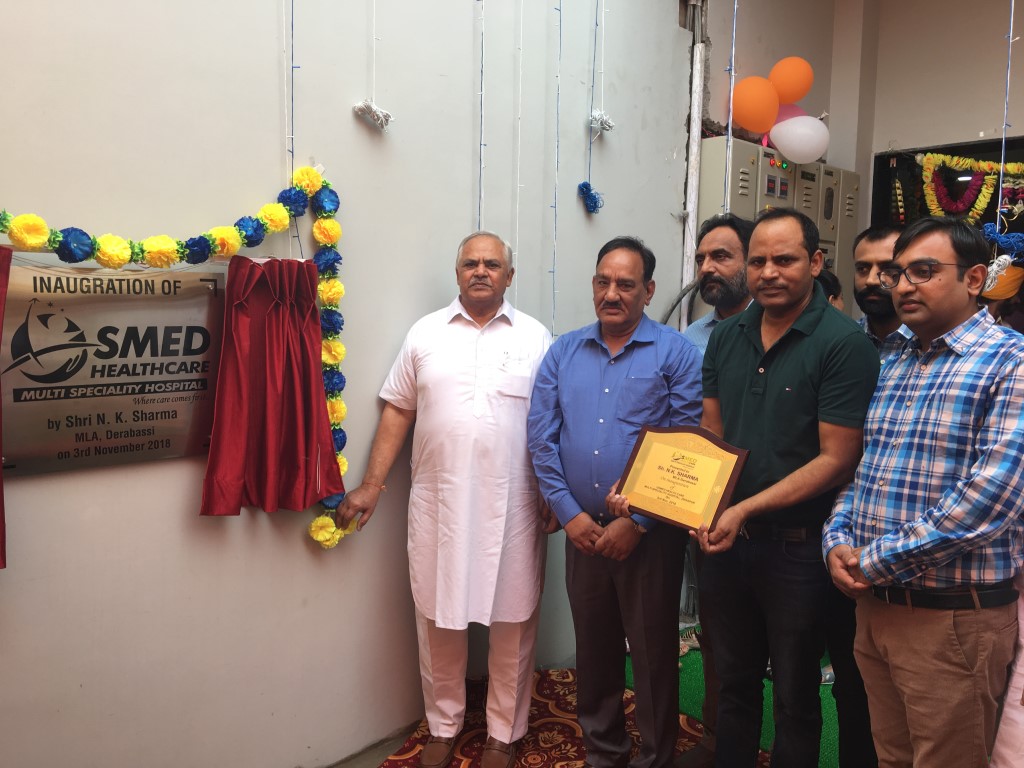 TB & Chest Diseases Specialist and founder of Osmed Hospital, Dr Satdev Saini, MBBS (former TB & Leprosy Director  Punjab), said, "We aim to provide best quality treatment at this hospital so that residents of this region do not feel left behind in terms of proper healthcare."
Dr Sahil Saini, MBBS, MS (Orthopedics) Trauma & Joint Replacement Surgeon said, "We are happy to announce that Zirakpur has got its first multispeciality hospital, where adequate facilities for treating the trauma and joint replacement patients are particularly available."
The 25-bed hospital has ultra modern equipments and facilities like a well equipped OT, Radiology X-Ray, 24×7 Emergency and Pharmacy,  Computerised Laboratory, Ambulance and enough Parking etc.  Its specialities include General Surgery, General Medicine,  Orthopaedics, Chest & Tuberculosis, OBS & Gynecology, Trauma, Joint replacement, Spine Problems and Emergency care.
The well trained faculty includes Dr Gurnaz, General Surgeon, Dr Geetika Singla, Gynaecologist, and Dr Smriti Ahluwalia, General Medicine. Later on the hospital is likely to be linked with the ECHS, ESI, Govt Panel and Health Insurance schemes.
The inaugural function was marked by a scintillating dance and singing performance by the students of Pearl's Cute Smiles Play School & Day Care Centre. Mr Kulwinder Sohi, President, Nagar Council, Zirakpur was also present on the occasion.