NewZNew (Amritsar) : In the medicinal and technical arenas the research and development expenditure is increasing at a galloping pace. This is not to make the treatment or therapy expensive or inexpensive but the sole aim of these specific research and developments is to make treatment of an ailment more effective.
Parkash Hospital announced the implantation of the first 3D Knee ArmorCoat system total Knee replacement in Amritsar. The first such surgery by Dr Parkash Singh Dhillon with 3D Knee ArmorCoat system which is closest to the natural knee motion and it increase stability and comfort level with High flexion which allow squatting with easy walking and climbing.
The new Gold Standard created for the 3DKnee popularly known as GOLD ON GOLD Knee , a knee replacement system designed to improve strength, stability, and flexion in patients. The 3DKnee (Data Driven Design) is based on over a decade of research into total knee kinematics and over 90000 3DKnees have been implanted world-wide.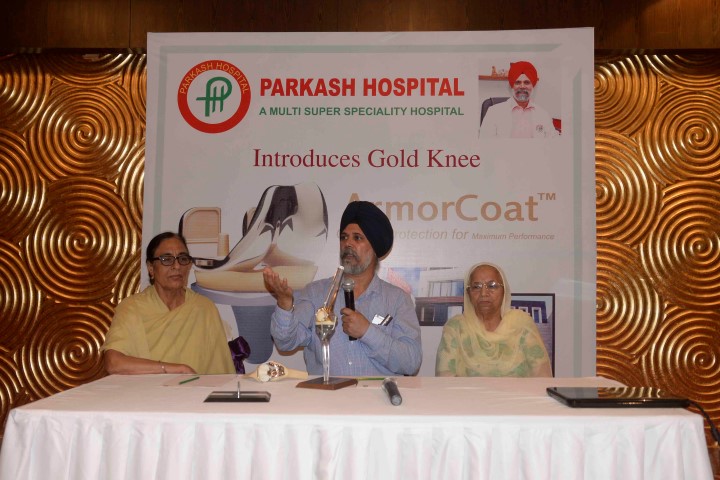 The new Gold Standard- ARMORCOAT now adds a new level of performance to 3DKnee total knee replacement. In laboratory testing, the 3DKnee produced 57% less wear with the already premium performing Direct Molded insert component currently used in the market with other knees.
Dr Parkash also explained that on an average conventional knee replacement would last at 15-18 years in the times when longevity was multi factorial dependent. This pressed for urgent need of complicated, costly and risky revision surgeries in the patients who has undergone the replacement at younger age. ArmorCoat with Vitamin-E poly has been specially designed after taking this factor in consideration.
Dr Parkash further said that The insert substitutes for your cartilage and meniscus, which is typically worn away due to arthritis. The femur articulates, or moves on top of the insert component, which also supports the weight of the body. The insert, therefore, can be prone to wear, particularly in a more active person. This wear can occur due to impact on the insert as well as degradation due to exposure to oxygen. the primary cause of revision surgery is wear and which can be reduced by Vitamin-E poly.
The e-plus total knee replacement insert component was developed by the DJO Surgical. E-plus was the first total knee replacement material to be offered to patients in the U.S. with vitamin E blended into the insert component in July 2001.
Dr Parkash said, "This knee provide the best in class knee replacement solution in high demanding and active lifestyle.Gold Standard knee has among the lowest simulated wear rates for a total knee replacement in the U.S. I am very excited to offer our patients the highest level of technology available to maximise benefits in longevity and performance when it comes to knee replacement surgery."