A hernia is an abnormal protrusion on an organ through a weakness in the abdominal wall. The abdominal muscles are usually strong enough to keep your internal organs in place, when a weakness develops, they may protrude through the musculature, leading to a hernia. An inguinal (pronounced "ing-win-al") hernia is the most common type of hernia. An inguinal hernia usually occurs when fatty tissue or a part of your bowel, such as the small or large intestine, protrudes through the inguinal canal into your groin at the top of your inner thigh.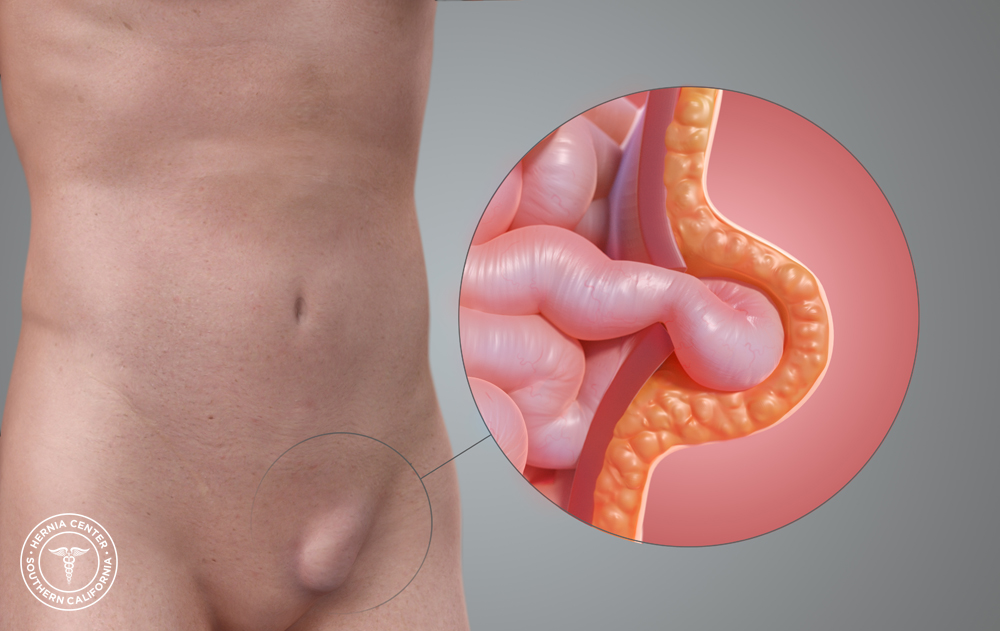 The inguinal canal is a potential passage that allows for the passage of the testicles in men to descend into the scrotum during development, taking with them blood vessels and the spermatic cord. In women a remnant persists as the round ligament. As a result of the canal either remaining open at the time of development or becoming more open from musculature weakness, fatty tissue or a part of your bowel, such as the small or large intestine, protrudes through the inguinal canal, forming an inguinal hernia
HOW IT IS DIAGNOSED ?
The diagnosis is made by your doctor on clinical examination  when you present with symptoms such as swelling, discomfort or pain in your groin. Rarely , in difficult cases, surgeon may require investigation like Herniogram x-ray,ultrasound scan or a CT Scan.
HOW  IS  INGUINAL HERNIA MANAGED ?
There are different modalities available for hernia repair.  Small sized hernias not causing any symptoms can be kept under observation. However, if it is a large hernia with symptoms like discomfort, pain, nausea, vomiting or constipation etc then a surgical repair is required provided patient is fit for surgery.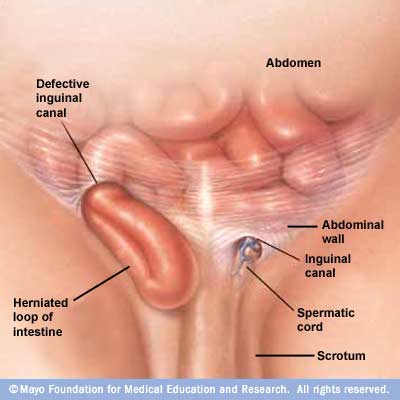 Surgically  there  two  ways   of  repairing  hernia.
Open Inguinal Hernia Repair
An open inguinal hernia cam be repaired through the traditional open technique which requires a 4 to 6 inch incision in groin region and after reducing the contents of the hernia sack, prolene mesh is used  to strengthen the defect.
Laparoscopic Inguinal Hernia Repair
The hernia can also be repaired through laparoscopic technique whuch requires 3 small cuts in the abdomen and hernia is repaired along with strengthening of defect with mesh.
WHAT IS THE OUTCOME OF INGUINAL HERNIA  OPERATION ?
It is usual to experience some pain and discomfort in post operative period which gradually subside. Occasionally there may be a collection of clotted blood or body fluid between the mesh and the skin which usually absorb spontaneously though some may require drainage.
One may also experience significant pain after repair which is due to a nerve being trapped in a healing scar tissue. You may return to light work as soon as you feel comfortable usually within 2 weeks in open surgical repair , but lesser in laparoscopic inguinal hernia repair.You should avoid strenuous physical activity or heavy lifting for 4 to 6 weeks.
WHAT HAPPENS IT YOU DECIDE NOT TO UNDERGO INGUINAL HERNIA OPERATION ?
Some patients wish to continue with  observation until hernia causes symptoms. However, if you do not undergo surgery for hernia the one can develop progressive symptoms requiring  an operation at a later date. The hernia may develop a blockade(Intestinal Obstruction) or develop strangulation(Blood supply to the bowel is cut off)which may require emergency surgery-the outcome under these circumstances may be worse than an elective surgery.
OPD Timing : 8:00 AM – 8:00 PM
Address : SCO 170-171, Sector 9C, Madhya Marg, Chandigarh
LandLine : (0172) 400-6061