'Peace and harmony is the only way for the development of the world' – Maharaj Trilochan darshan das ji: God is one so we are also one, God never asked us whether we want to become Hindu, Muslim, Sikh, Christian or Jain, He only created human and handed over the whole world and said this world is yours now but we humans Caste created obstacles in the path of peace by making caste religion, so it becomes the duty of all of us to establish peace because every person and every country wants that there should be peace in his country in his home, so we have organized International Peace of Art Conference.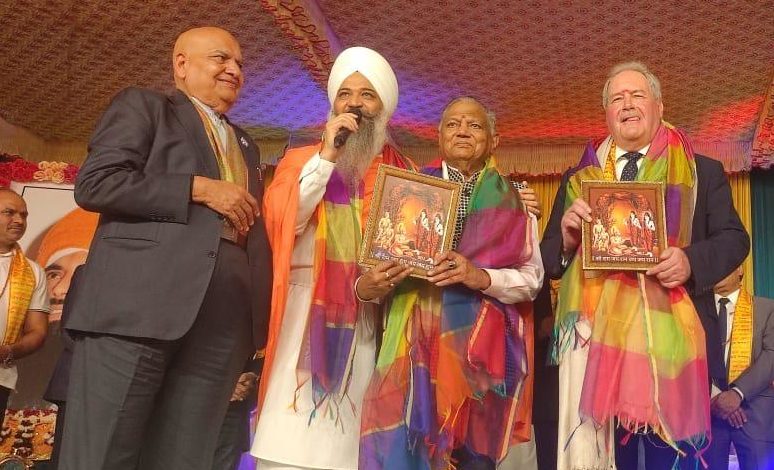 Organized and we believe that God is everywhere, says Maharaj Trilochan Darshan Das Ji, who was addressing lakhs of devotees.
Head of Sachkhand Nanak Dham, Param Sant Trilochan Das Ji
, addressed the press conference.  While saying that no society and country can progress until there is complete peace, both peace and justice are synonymous with each other.
In a country where there is no justice in the system, there can be no hope of peace. Peace and harmony are the only way forward for development, but both of them are automatically the path of all-round development.  Maharaj Trilochan Darshan Das ji kept his thoughts about world peace and harmony, on today's auspicious occasion, which is the foundation day of Das Dharma, Bob Blackman (Member of Parliament of United Kingdom) was present as the chief guest from London.
Satya Bhushan Jain from Jain Samaj, Khatu Syam from Delhi Dham, S. S. Aggarwal, Rajesh Verma Sachkhand Nanak Dham Darshan Darbar Yu.  Of.  Chairman Das Jaspal Bhambra, Sandeep Arora, Vikrant Thakur, Pawan Gupta Lal of PP Jewellers, Prem Garg of Mahal Chawal listened to Baba's satsang and received blessings.  Patrons of the institution, Das Harry Bogal and Das Deepak Marwah felicitated all the guests.
Arjun Kumar from Luv Kush Ramlila who took the blessings of Baba Ji and is a follower of Sanatan Dharma. On the occasion of the great gathering of the four day Das Dharma Sevadari Divas organized by Sachkhand Nanak Dham.  Thousands of devotees reached here.