newznew (Chandigarh) : 'Personal Branding, Storytelling and Beyond' is first book by Indian authors on the subject. The book is co-authored by Dr Prakash Hindustani and Dr Amit Nagpal. The book is divided into three parts viz Personal Branding, Storytelling and Beyond Storytelling. The first part focuses on the basics of personal branding, the second part focuses on various aspects of storytelling and the third part focuses on interesting concepts like how to appear as an interesting person in your social media profiles.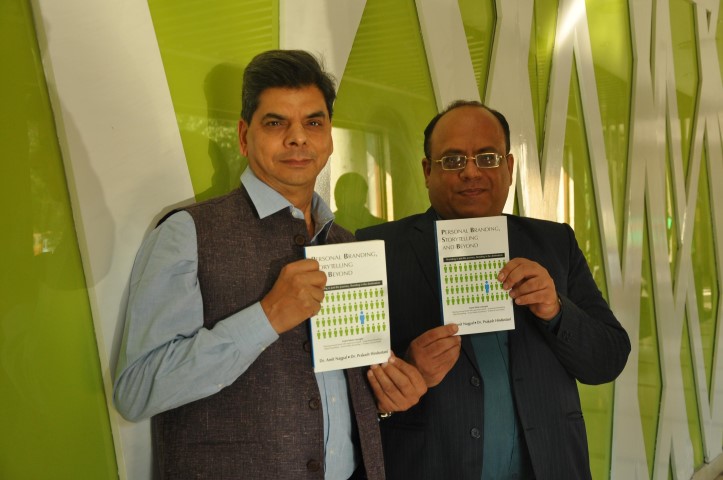 Dr Prakash Hindustani said, "The book is similar to an idiot's guide/ book for dummies in terms of its simplicity in assisting the reader in building up his/her personal brand in social circles irrespective of profession and field of thought.  What one would learn by trial and error over a period of time, this very interesting book does for you in just few pages."
The first part has dedicated chapters on writing skills, Facebook, LinkedIn, Twitter, Quora, Youtube, Blogging, email signature, online metrics and offline branding tools. The second part has dedicated chapters on digital storytelling, social media storytelling, inspirational storytelling and wisdom on social media. The third part ventures beyond storytelling into becoming an interesting person and so on. 'Beyond storytelling' is intended to create mystery and curiosity in the reader.
Dr Amit Nagpal said, "The book conveys the powerful message – 'Branding is only the journey and Bonding is the destination' which is its sub-title too. As you go through the book, you would understand the rationale of story-telling and becoming the architect of your own personal brand using authentic personal branding. With a reader friendly approach, it is like a playbook for success using two of the most effective strategies in life and business of personal branding and storytelling."
Whether one is new to personal branding, or exploring it deeper, there's something that will be useful to everyone. From the art of optimizing social media to the details of how to dress professionally to fit with a brand, the authors provide an enormous range of tools and relevant tips. And the material on storytelling is a great resource.
It is more than a business guide with a holistic view and includes emotional and spiritual aspects as well. The book is co-authored by Dr Prakash Hindustani and Dr Amit Nagpal. While Dr Prakash is a mass media expert with more than three decades experience in print and television, Dr Amit is social and online media expert with more than two decades of experience in publishing, media and digital marketing.