PNB Metlife Junior Badminton Championship – Season 6 in Chandigarh celebrates Young Talent: Over 500 skilled shuttlers from across Chandigarh impressed the audience with their performance during the 6th edition of PNB MetLife Junior Badminton Championship 2022.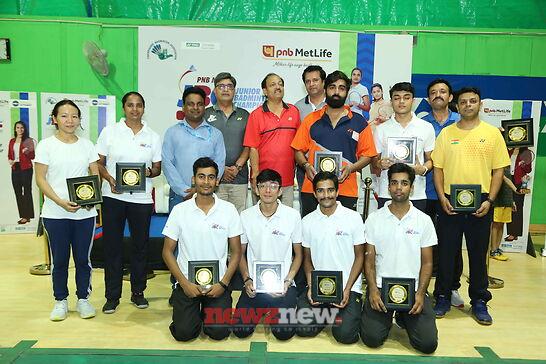 The Punjab state edition of the tournament concluded today at Chandigarh Badminton Association, Chandigarh and the closing ceremony applauded the rise of 10 Badminton champions across 5 categories.
In the Boys Singles U-17 category, Akul Malik from Chandigarh defeated Piyush Chauhan from Chandigarh with score 14-15 15-14 15-7. In Girls Singles U-17 category, Rijul Saini from Chandiagarh defeated Anu Priya from Chandigarh with score 15-10 15-5.
Sameer Bansal, Chief Distribution Officer, PNB MetLife said, "We have witnessed an extraordinary demonstration of enthusiasm, determination, and commitment during the past three days. I want to congratulate the winners, and wish them luck for the finals. Our objective, at PNB MetLife, is to use sports as an effective medium to empower children with positive self-esteem and help them strengthen their mental and physical prowess. The competition helps in nurturing the right talent at an amateur level, thereby fostering their growth and ability to perform at larger platforms." 
The next leg of this year's championship moves to Thrissur, Kerala and will run from 18th – 21st September 2022. Join us at VKN Menon Indoor Stadium, Thrissur because India's next Badminton champion could be amongst the young players competing there!
Interested applicants may call +91 9319483219 to complete the registration process.
Score Card of Winners of All Categories (Highlighted ones are the winners)
FINALS
GS U11
Avani Rai Vs Divnoor Kaur

21-15 15-12 15-11

GS U15
Anu Priya Vs Vanshika

9-15 15-10 15-7

BS U11
Ans Kumar Khare Vs Abhijay Anand

15-9 15-4

BS U15
Uday Rana Vs Vaibhav Giri

9-15 15-13 15-7

GS U9
Divya Rao Vs Kaylin

15-11 13-15 15-9

BS U9
Yash Jain Vs Gaddam Rutwik Reddy

15-13 15-12

GS U13
Shubhangi Chaudhari Vs Ridhima Saini

15-14 4-15 15-12

BS U13
Aarush Sharma Vs Tusya Nakra

7-15 15-9 15-7

GS U17
Rijul Saini Vs Anu Priya

15-10 15-5

BS U17
Akul Malik Vs Piyush Chauhan

14-15 15-14 15-7
Note to reporters: please see the Tournament Details for specifics on the programme schedule.
JBC 2022 TOURNAMENT DETAILS
PNB MetLife launched the first Junior Badminton Championship in 2015 to promote the second-most prominent sport in India by giving young badminton players a platform to showcase their talent. This pioneering initiative has grown from four cities to 12, has hosted 23,000 matches over the past five years, and has earned the full-fledged support of the Badminton fraternity in India.
Since 2019 it has brought in another layer of learning and development called 'JBC Bootcamp', which is hosted on YouTube: https://www.youtube.com/c/PNBMetLifeJBCBootcamp/featured, and showcases Badminton veterans and champions like P.V. Sindhu, U. Vimal Kimar ,Vijay Lancy, Anup Sridhar & many more, sharing their insights, tips and strategies to help the participants strengthen their game.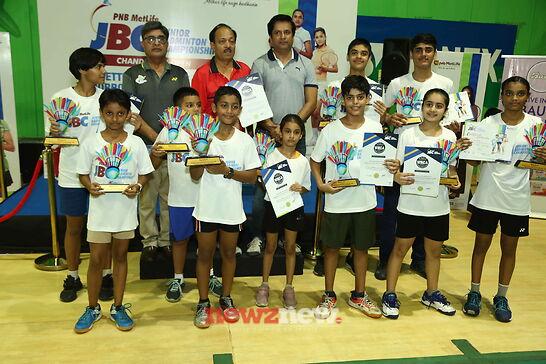 The 6th edition of PNB MetLife Junior Badminton Championship (JBC) is being conducted in 12 cities, including Mumbai, Bangalore, Surat, Lucknow, Ranchi, Indore, Chandigarh, Thrissur, Hyderabad, Bhubaneshwar, Guwahati, and Delhi. All Badminton players and aspirants in these 12 cities between the ages of 7 and 17 are eligible to compete in PNB MetLife JBC 2022.
The different categories include Under 9, Under 11, Under 13, Under 15, and Under 17. The match format will be singles and each participant can play in a maximum of two categories, as long as the maximum age limit is upheld. The State Winners will be invited to New Delhi for an awards ceremony with P.V Sindhu, two-time Olympic Medalist and PNB MetLife Brand Ambassador, and Ashish Srivastava, MD & CEO, PNB MetLife.
The complete tournament schedule:
| | | | | |
| --- | --- | --- | --- | --- |
| Sr No | Cities | Venue | Address | Tournament Dates |
| 1 | Mumbai (Maharastra) | Andheri Sports Complex | Sports Complex, JP Road, Near Azad Nagar Metro Station, Andheri West, Mumbai – 400058 | 22-25 Aug |
| 2 | Bangalore (Karnataka) | Yuve Champion Academy | 75/8, Chokkanahalli Layout Thanisandra Main Road Behind RR Signature Apartments, Opposite Bharatiya City, , Bengaluru,560064 | 27-30 Aug |
| 3 | Surat(Gujarat) | Yash Tennis Badminton Academy | Magdala Circle, Hazira Road, Opp ONGC Toll Naka, Nr. TGB & Cityplus, Dumas Road, Surat 395007 | 03-06 Sep |
| 4 | Lucknow (U.P) | K.D Singh Stadium | Hazratganj, Lucknow, 226001 | 02-06 Sep |
| 5 | Ranchi (Jharkhand) | Khel Gaon | Mega Sports Complex, Khel Gaon, Ranchi,  834009 | 07-09S ep |
| 6 | Indore (M.P.) | Indore Badminton Club | 214, Manglaya Sadak, Indore, Madhya Pradesh 452010 | 12-15 Sep |
| 7 | Chandigarh | Chandigarh Badminton Association | Sector 38, west, Behind Citco Petrol Pump, Chandigarh | 13-15Sep |
| 8 | Thrissur (Kerala) | VKN Menon Indoor Stadium | Vadakke Stand, Chembukkav, Thrissur, Kerala 680001 | 18-21Sep |
| 9 | Hyderabad (Telangana) | Chetan Anand Badminton Academy | 104, Rd Number 44, Kavuri Hills, Jubilee Hills, Madhapur,Hyderabad 500033 | 25-28 Sep |
| 10 | Jalandhar(Punjab) | Raizada Hansraj Badminton Stadium | 8H9J+VV3, Jalandhar Cantt – Jandiala Rd, Civil Line, Jalandhar, Punjab 144006 | 02-04 Oct |
| 11 | Guhawati (Assam) | Kanaklata Indoor Stadium | Bhubneswar Barua Road, Near R. G. Barua Sports Complex, Gandhi Basti, Sarania Hills, Guwahati, Assam 781007 | 07-10 Oct |
| 12 | Delhi | IG Indoor Stadium | Indraprastha Estate, Grand Trunk Road, Near Raj Ghat, New Delhi 110002 | 09-12 Oct |