newznew (Chandigarh) : PNB MetLife, one of India's leading life insurance companies, announced the launch of conVRse, a first-of-its-kind Virtual Reality (VR) based customer service platform. The conVRse was inaugurated by T. S. Vijayan, Chairman, Insurance Regulatory and Development Authority of India (IRDAI) along with Nilesh Sathe, Member Life IRDAI in the presence of Tarun Chugh, MD & CEO, PNB MetLife at the company regional office in Hyderabad.
Speaking on the occasion, T.S. Vijayan, Chairman IRDAI, said, "My tryst with technology goes back to the early days of LIC. I believe that the core target audience for Life insurance are the young people. We need to create innovative engagement modules through gaming or interactive format to target that group and excite them. As a regulator our concern is that the customer gets the best service even in the remotest of locations. My vision is to automate the entire customer experience from sales, KYC, post sales on versatile platforms. I compliment PNB MetLife for doing this."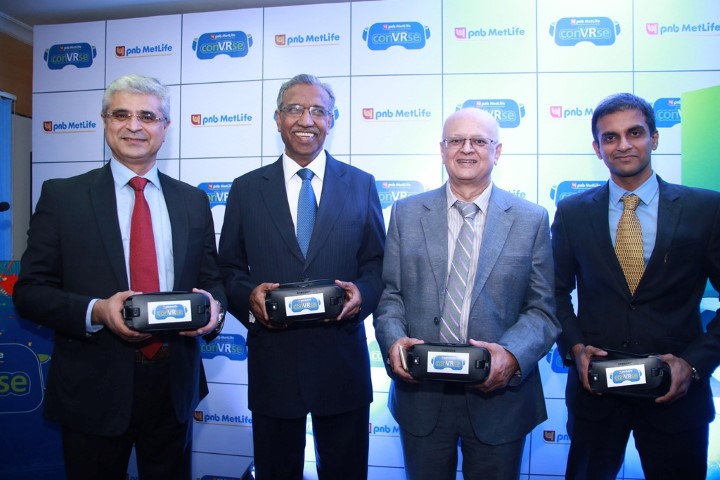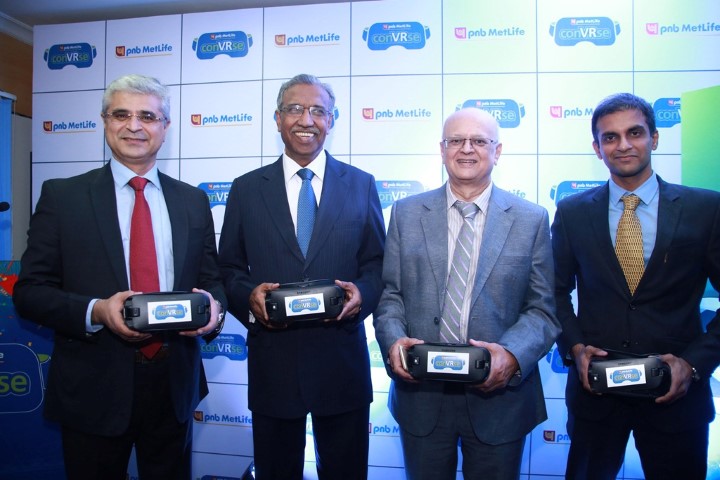 At the occasion of the launch, Tarun Chugh, Managing Director, and Chief Executive Officer, PNB MetLife said: "Our ongoing investment in technology underscores our philosophy to support continuous innovation and customer centricity. We are delighted to bring this ground breaking technology – conVRse to our customers and revolutionize the concept of customer service for the 21st century". Mr. Chugh further added: "The next phase of innovation for the life insurance industry is dawning, and we are proud to be leading from the front. I would like to thank the IRDAI for their support and guidance on bringing this innovative solution to our customers in India."
conVRse is an experiential virtual reality platform built in collaboration between MetLife's innovation center – LumenLab in Singapore and PNB MetLife in India. This is the first time that virtual reality is being used in the insurance industry to benefit the customers directly through superior experience and availability of experts. It aims to provide a differentiated, immersive and a personalized experience to the customer through the VR headset available in 15 PNB MetLife branches across 10 cities. When customers put on the VR headset they find themselves in a 3D simulated virtual room,  face to face with an avatar   "Khushi", our life insurance expert. The customers simply need to walk into the select PNB MetLife branches, wear the VR headset and get all their servicing requirements fulfilled by Khushi. The platform will display policy related information and uniquely engage the customers through visual assist elements like animations.
"What I like about virtual reality is that it allows the customer to be the protagonist in their own financial journey." said Zia Zaman, LumenLab CEO and Chief Innovation Officer of MetLife Asia. "We are delighted to launch this technology first in India. Our customers will have the unique opportunity to experience VR for the first time, to solve real-world servicing issues."
In the intial phase, the conVRse platform will be launched at 15 branches covering 10 cities namely – Delhi, Mumbai, Hyderabad, Bengaluru, Kolkata, Jammu, Chandigarh, Lucknow, Ahmedabad, Pune. In the next phase, PNB MetLife is working towards equipping the sales team with VR devices and set up conVRse zones at bank partner ATMs. The company plans to further develop the platform to spread insurance awareness, drive experiential learning, share interactive product information and develop it into a sales platform.
You can catch the telecast of the launch event in India on PNB MetLife Facebook page – www.facebook.com/PNBMetLife/