GRANT OF RS. 55 LAKH APPROVED FOR THE CLEANLINESS OF KALA SANGHIA DRAIN
DIRECTIONS TO IDENTIFY ALL THE ENTRY POINTS WHICH DRAINING OUT CONTAMINATED WATER IN KALI BEINRIVULET
NewZNew (Chandigarh/Jalandhar) : The Punjab Government has chalked out a comprehensive plan to treat the contaminated water of all the ponds in the state and subsequently to use this water to irrigate the fields. Disclosing this Mr. S.K Sandhu, Principal Secretary to the Chief Minister, Punjab said that Planning Department, Irrigation Department and Sewerage Board would jointly undertake this task.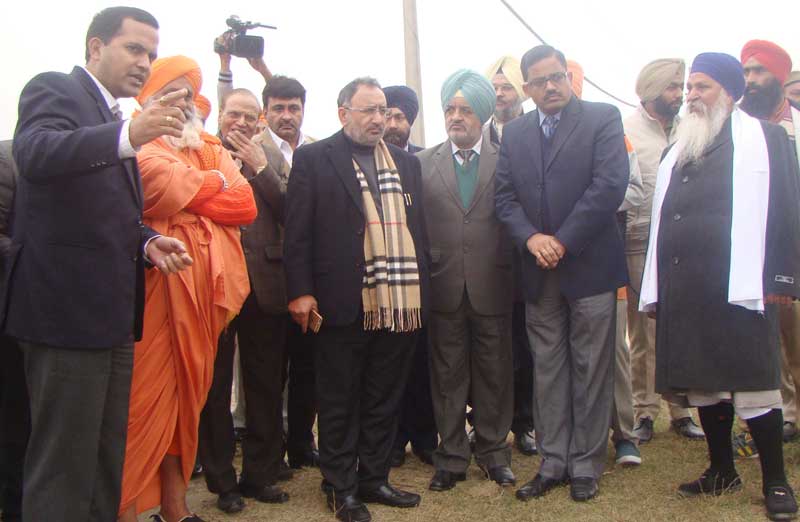 Mr. Sandhu who was having a meeting at Jalandhar with famous eco-activist and environmentalist Sant Balbir Singh Seechewal, Executive Officer of Sewerage Board Mr. D.K Tiwari and Deputy Commissioner Jalandhar Mr. Kamal Kishore to monitor the activities executed to check the contamination of Kali Bein. Mr. Sandhu said Chief Minister Mr. Parksah Singh Badal in a meeting held 3 week ago had issued directions to discover all those entry points in all the districts adjoining Kali Bein which were draining out contaminated water in this pious rivulet.  He said that complying with the directions of Chief Minister, Hoshiarpur, Jalandhar and Kapurthala districts were working on this task and they would soon furnish the report to the government.
Principal Secretary further said that this sacred rivulet was having association with Guru Nanak Dev Ji and have distinct place in the Sikh history. He said that the Punjab Government had already generated sufficient funds to set up a treatment plant on the bank of Kali Bein rivulet. During the meeting funds to the tune of Rs. 55 lakh were approved for the cleanliness of Kala Sanghia Drain. Later in the day Mr. Sandhu visited Sewerage Treatment Plant set up at Basti Peer Dad along with Sant Seechewal.
Mr.S.K Sandhu also visited the Project site at village Seechewal, where contaminated water is treated and water is used for irrigation purposes. Kapurthala Deputy Commissioner Mr. Daljit Singh Mangat and SSP Mr. Rajinder Singh was also present at this occasion.