newznew (Chandigarh/Kolkata) : Inviting people hailing from Haryana to be a part of the future development of the State, Minister for Industries, Government of Haryana, Mr Vipul Goel, met Haryanvis from West Bengal at a Roadshow organised by Confederation of Indian Industry (CII) at Kolkata on Friday. CII and Government of Haryana are working hand in hand for the upcoming Pravasi Haryana Divas to be organised from January 10-11, 2017, at Kingdom of Dreams, Gurugram.
Referring to West Bengal as the land of tigers, Minister for Industries, Government of Haryana, Mr Vipul Goel said, "I take this opportunity to welcome all my Haryanvi brothers and sisters who have made their mark in the foreign lands as well as in different parts of the country and made us all proud."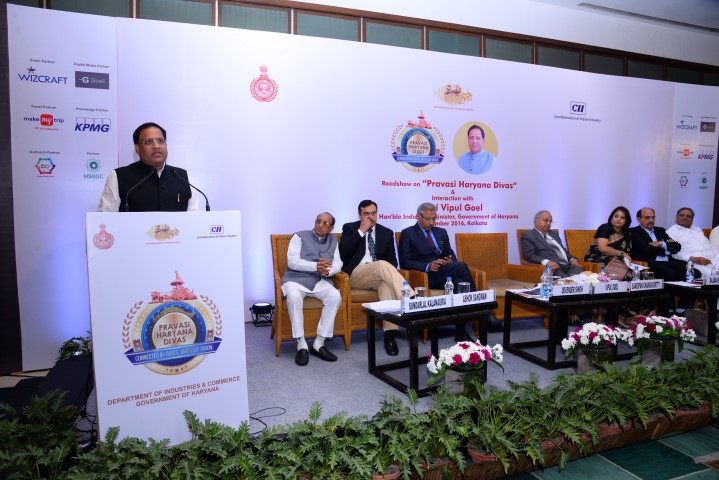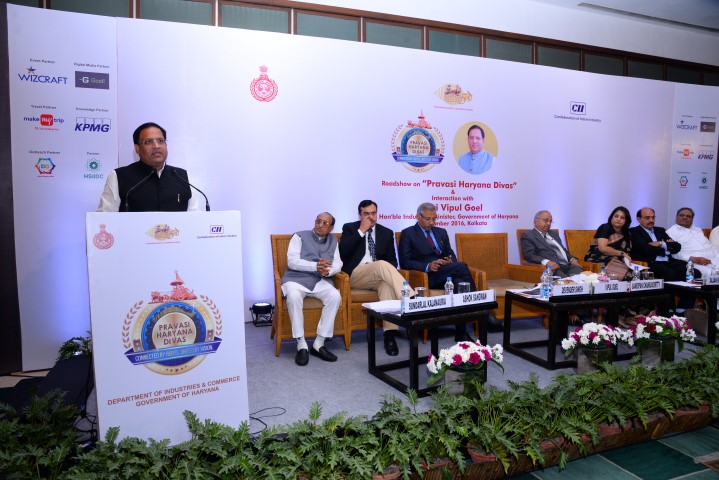 "Haryana is an ideal state for becoming partner with Haryanvis residing in West Bengal owing to its core strength in auto manufacturing and auto-components, textile and food processing sector and we take immense pride in our philanthropy projects. ESDM, Health, Education, Tourism, Media & Entertainment are key sectors where we are looking for business partnerships with you," he added.
"Haryana is a land of opportunities and enterprise. In the last 10 years, we have grown at an impressive average growth rate of 7.5% with maximum growth coming from the services sector. Today Haryana is counted among the most developed and industrialized States in India.  We contribute nearly 3.5% to the national economy. Haryana enjoys a great strategic advantage as the State surrounds the National Capital Delhi from three sides and nearly 57% of the State falls in the National Capital Region. We have access to two international airports at New Delhi and Chandigarh."
Highlighting several steps taken by the state government for accelerating economic growth, he said, "To ease regulatory burden and facilitate Ease of doing business, we have launched Single roof mechanism through the Haryana Enterprise Promotion Act 2016, notified 119 services to industries under the Haryana Right to Services Act 2014, introduced a three-tier mechanism to address the grievances of industrial units and launched E-biz portal in January 2016, for online submission of Composite Application Form (CAF). The Enterprise Promotion Policy was implemented in August, 2015 which sought to cement re-position Haryana as the 'pre-eminent destination' for doing business to facilitate balanced and sustainable regional development through a dynamic governance system, wide-scale adoption of innovation and technology and skill development to nurture entrepreneurship and generate employment opportunities."
Mr Vipul Goel also shared that in Happening Haryana Investors' summit, 11 corporates signed MOUs with Government of Haryana to adopt villages. In June 2016, five villages were nominated by Hon'ble President of India to be developed as Smart villages in Haryana.  As many as 18 villages have been adopted by Maruti Suzuki, DLF Foundation, JCB, Power Grid, Indian Oil, Manav Rachna trust under Swa-Prerit Adarsh Gram Yojana/CSR. "We welcome your support in developing Haryana villages so as to bridge urban-rural divide."
"Where I stand, I can see a huge opportunity of collaboration with all of you. With our welcoming policy initiatives and assurance in Ease of Doing Business, we assure all possible facilitation & support to Pravasi Haryanavis looking for social and business opportunities in the State of Haryana. This will be the first of its kind event which will provide Pravasi Haryanvis an opportunity to reconnect with their roots. We are aiming at not only highlighting available avenues for investments in various sectors, but also offering concrete opportunities for meaningful contribution towards improving lives of the people of Haryana. With saying all this, I am here to invite you all to Pravasi Haryana Divas on 11 January 2017 at Gurugram," he added.
Shri Devender Singh, Principal Secretary Industries, Government of Haryana, said, "With Department of Industrial Policy and Promotion (DIPP) survey, Haryana is ranked among top 5 states in the ease of doing business (EODB). Ours is the top state in North India in the EODB ranking. We are investing heavily in industrial and related infrastructure to ensure that all future needs of the industry are fulfilled with the ambitious 136 km long KMP (Kundli-Manesar-Palwal) expressway along with the MRTS (along the satellite towns of NCR) and Global Smart City, Aviation Hub, Hisar and Multi-Modal Logistics hub at Bawal on the KMP corridor."
"The Government has also been committed to accelerate the pace of socio-economic development in the rural areas through Swa-Prerit Adarsh Gram Yojana (SPAGY), which seeks to translate the Gandhian Vision of reconstruction of villages of India so that it may be as easy for anyone to live in them as it is supposed to be in cities. Haryana is among the front runners of Industrial development in India that is showcased with its leading position as producer of 50% of passenger vehicles and 60% of motorcycles in India. The state is ranked 4th in the Infrastructure Index and the entire state falls in the influence zone of two industrial corridors- DMIC and AKIC," he added.
Mr Ashok Sangwan, Director, Industries and Commerce, Government of Haryana, said, "Through Haryana Gaurav Samaan, Government of Haryana will honor Pravasi Haryanvis who have made significant contributions in Trade and Industry, Health & Education, Information Technology, Engineering and Services, Art, Culture, Entertainment, Tourism and Social service. They have stretched the boundaries of achievement and excellence wherever they have chosen to settle and live."
"To provide exposure to various facets of the Haryana's way of life, culture, spirituality, adventure and sports, creativity and composite character of India and particularly Haryana, we are also launching one-of-its-kind 'Know Haryana Programme'. The programme has been formulated for the benefit of Haryanvi Youth who are not staying in Haryana and have had no opportunity to discover their roots in Haryana," he shared.
Shri Sandipan Chakravortty, Past Chairman, CII Eastern Region & Chairman, TM International Logistics Ltd, Shri Sundarlal Kalanauria, Chairman, Patron, Haryana Nagrik Sangh, Kolkata, Shri Sajan Kumar Bansal, Managing Director, Skipper Ltd, Dr Rupali Basu,Vice Chairperson, West Bengal State Council, CII & President and Chief Executive Officer, Apollo Hospitals Group, were also present on the occasion.