NewsNew: After a lot of to and fro with the complicated love story, a big bang wedding is about to cause much hysteria in the show Ichhapyaari Naagin which airs Monday – Friday at 8pm. SAB's cutest couple on-screen, Ichha (Priyal Gor) and Babble (Mishkat Verma) will finally get married in the coming month. The entire Prataap family plays a harmless prank on her and set up the celebration saying that Babble is getting married to his long-time ex-lover. Gearing up the suspense of this entire marriage fiasco for Ichha, Babble keeps it a secret from her that in reality she will be his real bride. Trying to be happy for Babble, Iccha unwilling gets involved in the wedding celebration.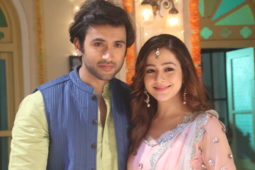 Currently, the show will witness the start of all pre-wedding rituals. The entire family is busy teasing Iccha, for instance Babble gets his name inscribed on Ichha's palm during the mehendi ceremony saying it's their ritual to write the name of the groom in everyone's hand. Ichha gets annoyed with his behavior. The celebration is at its peak when on the day of the Sangeet Ceremony, Babble and Ichha perform a romantic dance on 'Jag Ghumeya'. The viewers will also get to witness performances of other SAB actors like Aditi Sajwan (Koyal) and Paresh Ganatra (Ghotak) from Chidiyaghar on 'Manma Emotion Jage'. Adding some spunk to this wedding Aniruddh Dave (YARO) and Shubhi Ahuja (Sanjana) from Y.A.R.O ka Tashan moved their booties on 'Beat pe Booty' and 'Humma Humma' whereas Abhishek Bajaj (Rahul) and Anju Jadhav (Preet) from Dil Deke Dekho gave a sizzling performance on the famous Bollywood track 'Kala Chashmah'.
Will this fun prank and teasing go over-board with Iccha? Will Ichha accept this sudden marriage proposal?
An excited Priyal Gor a.k.a Ichha gleefully said, "I love wedding seasons and here I get to be a bride. I love getting all dressed up and putting Mehendi. It feels like a real wedding."
Mishkat Verma a.k.a Babble, the groom in the show adds, "This is a major highlight of the show. Finally Babble and Ichha will get married soon. It was a lavish sangeet night where all the actors from other shows became the part of this grand wedding with their mind blowing performances."