newznew (Chandigarh) : Some love stories never see the light of the day and some culminate even before they begin! And there are some rare ones that get a second chance to blossom into a tale of a love like no other!  Such is the story of Diane Dupont and Viren Kapur – the duo that falls in love, moves apart and then life brings them together again. But at a cost! They have to struggle through the challenges posed to them by the cruel world and overcome many hurdles to be able to spend a lifetime with each other.
The young and budding author Preeti Parashar's debut novel – 'At The Click Of Love', published by Fern Tree Publishing is a saga of unconditional love that flourishes across boundaries latently like a volcano and when the time comes, it blooms like never before!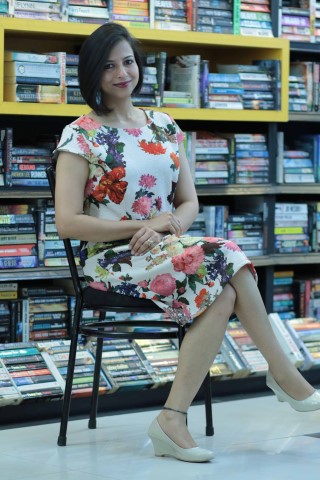 The book was formally launched today in Chandigarh and is available for sale on all important online platforms.
Preeti has been writing articles and poems ever since her school days and has a vast experience in the field of communication. Her dream of getting her first book published saw fruition last year when Fern Tree accepted her work on merit.
Speaking to the media about the book, Preeti said, "Writing this book has been a beautiful journey for me. Being my debut novel, it is all the more special! I had been thinking of writing a fiction novel for the past few years but then the script materialized only over two years ago and I just went for it! It is an expression of my thoughts and imagination and the feeling is inexplicable when your work comes out as a book and you are able to reach out to the audience."
Elaborating further about the book she said, "Being creative myself, l wanted the protagonists of the book also to be from a creative field. Hence I chose photography as the profession for Diane and Viren. They are acclaimed and Award-winning photographers. Diane is a ravishing Parisienne beauty and Viren is from New Delhi, India. They meet and develop a liking towards each other. But just as they were about to express their desires to one another, they fell apart. After a hiatus of eight long years during which both got married and had moved on with life, they meet again. Their latent love comes to the fore and they can no longer be away!  But will it be a smooth sail for them? Will they be able to live their love and fulfill their dreams? Will their love survive a lifetime? The book holds the answers to all these questions."
Preeti also said that she chose to write a fiction romance as the theme is close to heart and she has been expressing her thoughts on this through her poems. Her poems can be found on her blog too – vepreeti.wordpress.com.