newznew (Pantwari/ Chandigarh) : A Unique ' Goat Swayamvar' was organized at Pantwari Village located near Nag Tibba in Tihri Gadhwal. Which as many as 15 selected goats – some of them named after popular actress Priyanka , Katrina & Deepika – were decked up in Bridal finery and married as per rituals akin to human wedding. The mov was initiated by the animal husbandry department along with NGO Green People. A Large crowd from surrounding  Village as well as visitors from outside had gathered since morning In anticipation of the 'wedding'.  The atmosphere was festive as the 'brides' selected their partners (with the help of panel of judges who paired them male goats after noticing the interest exposed by each of them.)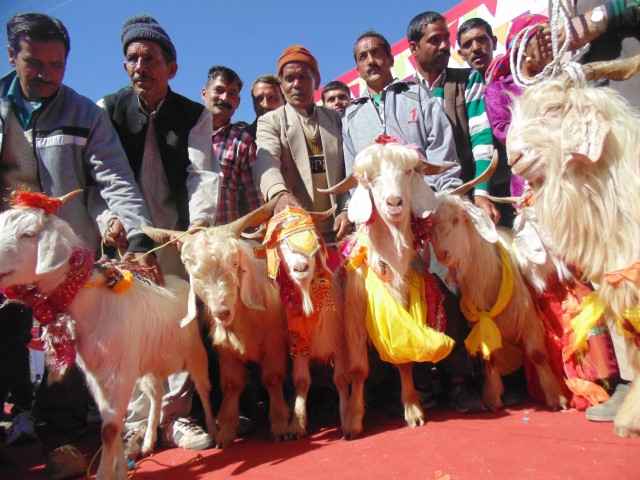 Roopesh Rai, Founder president of Green People said that the motive behind the goat wedding was " to inform as well as entertain ." " We wanted locals to take pride in goat rearing of late, the quality of the milk from goats in the area was declining which  is why we decided to hold the event to improve their breed quality.
One group played traditional musical instruments Dhol and Damau adding to the fervour of the 'weddinga'. Over 200 women and men staged the traditional Jaunpuri dance and sang on the beats of Dhol. To promote the swayamwar, the owners of male goats were offered excursion trip of two days each.