Pumpkart's app unveiled by Punjab IAS officer – Vini Mahajan: Vini Mahajan, Additional Chief Secretary (Industries & Commerce), Punjab, unveiled the Pumpkart app at Software Technology Park of India(STPI) here.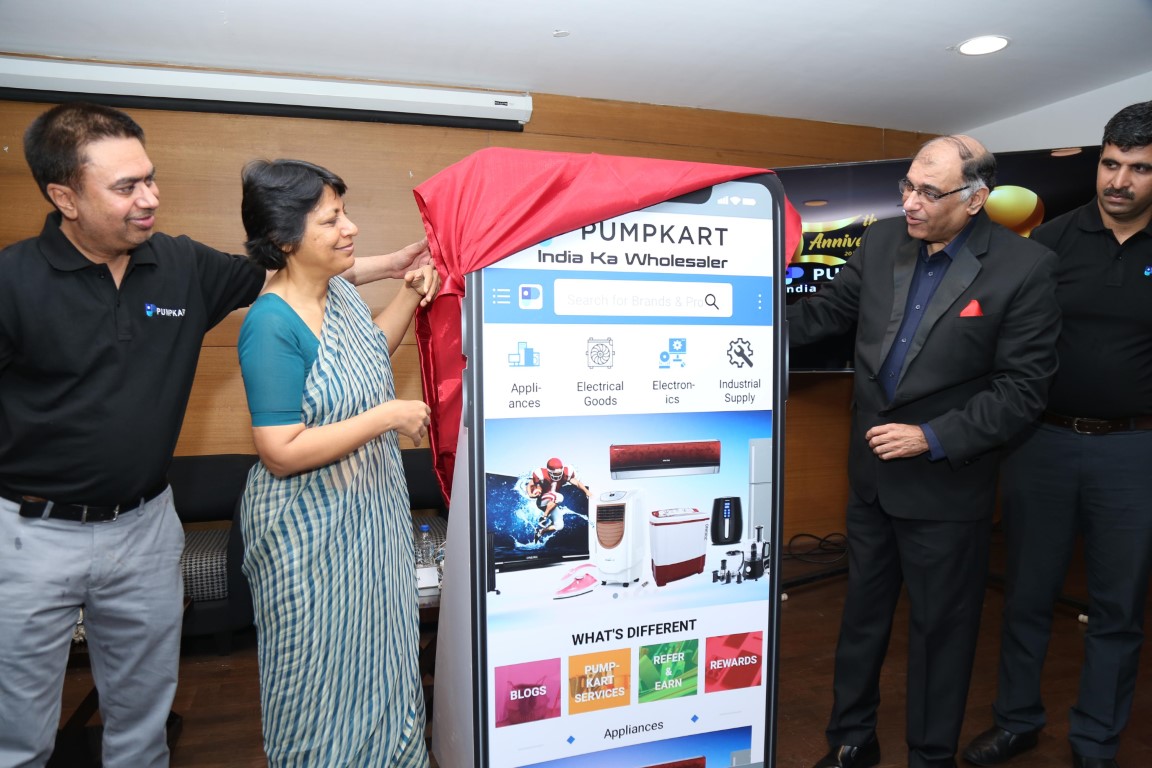 The ceremony took place in the presence of Pumpkart's Co Founders'- K S Bhatia and Manish Saini.  It is pertinent to state that Manish Saini has joined Pumpkart as a Co Founder. Saini is an IIM graduate and his coming on board is set to provide impetus to the next phase of Pumkart's ambitious growth plan. It is noteworthy that Saini has over 15 years experience in strategic & operational management across Fortune 100 companies and start ups.
Renowned names from the world of business like Dr Dinesh Dua, CEO & Director, Nectar Life Sciences Ltd and Chairman, Pharmexcil were also present.
"Pumpkart is celebrating its 5th anniversary, so we timed launch of the app with this. Our app is a B2B Ecommerce marketplace model dealing in the complete range of home appliances, kitchen appliances, electronic goods, electrical goods and industry supply. It is first of its kind as the buyers are not only retailers/dealers but also the corporates & industries." Said K S Bhatia, Co Founder, Pumpkart.
The app has been designed keeping a very important aspect in mind. A majority of products being manufactured in India are being sold in the unorganized sector and manufacturers struggle to find retailers for their products, which otherwise are of a high quality.
Pumpkart's app will tap these manufacturers and provide them retail buyers. "Our aim is also to give a fillip to PM's 'Make in India' initiative, so there is extra attention paid in our app to Indian manufacturers of quality products." Adds K S Bhatia.
"I congratulate Pumpkart for the new app. We in the industries & commerce department are geared up to help and hand hold people with start-up ideas. Start ups have an important place in the scheme of things in our department and we have even recruited top class professionals to manage the start up initiative of Punjab government." Said Vini  Mahajan, Additional Chief Secretary, Industries & Commerce, Punjab.
Pumpkart will provide all the retailers using the platform for a period of 3 months, the working capital lending to improve their buying capacity. The advantage which will accrue to manufacturers & brands is that the platform will provide them a direct reach to the retail outlets via its mobile app, while providing the retailers with a wide range of options to choose from for their customers, thus improving their product mix and profitability.
"For the first time in India, there is a platform- Pumpkart, which caters to all type of Industries and assists them in their- spend analysis; spot buys; price benchmarking; category management & tail spend management." Said Manish Saini, Co Founder, Pumpkart.
With the vision to become 'India Ka Wholesaler', Pumpkart's online platform is poised to disrupt the traditional channel market by providing an extremely transparent pricing mechanism for the retailers.
Pumpkart has also come up with the unique concept of Pumpkart services, which is for the first time in India. Pumpkart has already launched 13 Pumpkart service stores to bolster the service support for the retail network across all brands and products on its platform. This will provide the end customer a hassle free buying experience. 
Pumpkart an award winning start up, which has been appreciated by Google in 2015 is growing fast. By bringing a huge portfolio of products on its B2B platform, it plans to capture 25,000 retailers by end of 2019, with this new range and technology back up.