VEHICLE TRACKING SYSTEM AND PASSENGER INFORMATION SYSTEM OF PUNBUS APPRECIATED
TYRE MANAGEMENT, FUEL MANAGEMENT AND PREVENTIVE MANAGEMENT SYSTEMS IN THE PIPELINE-M.S JAGGI
NewZNew (Chandigarh) : PUNBUS/Punjab Roadways has been given award for innovative best practice by Association of Road Transport Undertakings (ASRTU) , Government of India  for implementation of  Intelligent transport system in its buses. The award was given by Sh. Vijay Chibber (IAS) , Secretary , Ministry of Road Transport and Highways in an impressive function held at Ahmedabad . This award was received by S. Malwinder Singh Jaggi (IAS) Managing Director PUNBUS in a function of Association of State Road Transport Undertakings held today which was attended by Chief executives and senior officers of State Transport Undertakings of India.  This award has been given for implementation of Vehicle tracking system and passenger information system by PUNBUS.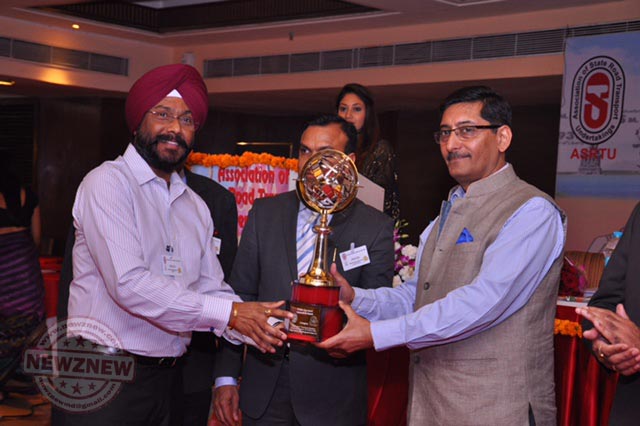 Disclosing this here today Director Transport Mr M.S Jaggi said that PUNBUS has installed vehicle tracking devices in 514 buses through which the speed of buses , unauthorised halt of buses and  late/early running of buses, night halt of buses, kilometres operated by buses and stops at which buses do not halt can be monitored. All exceptions like buses going via bye pass, unauthorised halt,  system not working and over speeding are reported via SMS to the concerned depot officers.  Passengers can get information about arrival departure of buses through LCD screens at bus stands, through SMS on their phone and though android based application, said he. PUNBUS is planning to introduce GPS in 315 more buses in 2015-16, he added.
He said that the innovative ITS application implemented by PUNBUS is proving beneficial for PUNBUS management and for bus passengers.  PUNBUS can monitor all its buses in real time as well as retrieve data from data base regarding working of its buses. Audit and enquiry capabilities have been strengthened as speed and location data of each bus every few seconds is available in the database for administrative/ replay purposes. Violations/ non-compliances can be replayed to understand cause of incident/ accident and to hold violators accountable.   Passengers are getting information regarding bus timings at all bus stands and monitoring of speed of buses helps save passenger lives. He informed that PUNBUS is in the process of adding more modules like tyre management, fuel management and preventive management systems for which GPS mileage will be used. These modules will help in saving on tyre cost, fuel cost and improve reliability of buses by adhering to proper maintenance schedules.