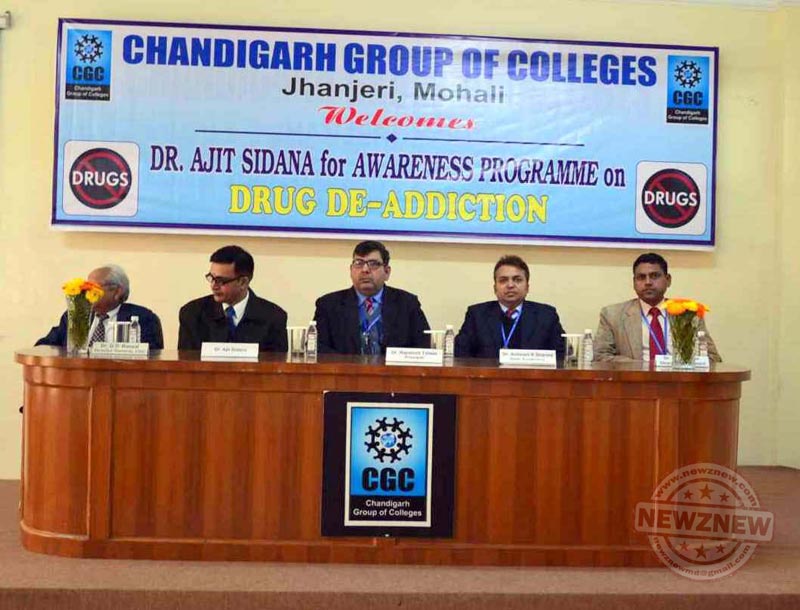 NewZNew (S A S Nagar) : Chandigarh Group of Colleges (CGC), Jhanjeri organized seminar by an expert Dr. Ajit Sidana, Associate Professor, Deptt of Psychiatry, GMCH, Sector 32, Chandigarh. Dr. Sidana began with the outcome of surveys conducted by various agencies. According to him these surveys provide startling revelations that the people start using drugs as early as at the age of 10 & this first use generally converted into abuse then Harmful use and dependence & finally Addiction. Some of the intoxicants commonly used include tobacco, alcohol, heroin, etc. and some medicines when taken in large quantities, act as drugs.
Dr. Sidana further added that there is not even a single benefit of using drugs except temporary illusion for a few hours whereas its harmful effects are countless. He highlighted that this habit starts with experimentation, prompted by friends. Dr. Sidana explained the justification of controversial decisions like permitting liquor shops in almost every market, making syringes available by National Aids Control Organisation (NACO) free of cost.
Speaking on the occasion, Rashpal Singh Dhaliwal, President, CGC said that awareness is key to minimize drug addiction. If the youth, especially in their teenage, are made aware of the fact that this experimentation can very soon make them dependent & finally drug addicts thenthey will definitely resist the temptation of tasting a drug for the sake of having a feel of its effect.