Punjab Gatka Association became champion for the 7th consecutive time in the 7th National Gatka Championship: 7th National Gatka Championship 2023 organized by Gatka Federation of India from 04 August 2023 to 06 August 2023 at Karanbir Nabin Chandra Indoor Stadium, Guwahati, Assam.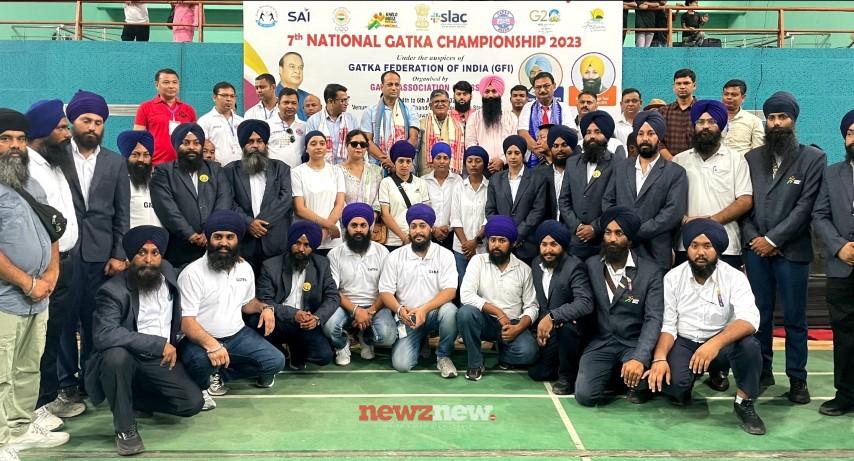 In which the team of
Punjab Gatka Association
achieved the distinction of becoming champion for the 7th time in a row by performing well.
Providing more information about this, Baljinder Singh Toor, General Secretary, Gatka Federation of India, said that about 1200 players from 22 states of India participated in the 7th National Gatka Championship. Under-11, 14, 17, 19, 22, 25 and Under-28 matches were held for boys and girls, in which Punjab boys team stood first with 116 points, Delhi second with 97 points and Haryana with 31 points stood third.
Similarly, in the girls' competition, the Punjab team secured the first position with 98 points, followed by Delhi with 54 points and Haryana with 21 points.
It is noteworthy that the Governor of Assam, Gulab Chand Kataria attended the opening ceremony on the first day of the championship as the chief guest. On this occasion, while encouraging the children, he said that such sports competitions not only give the players an opportunity to meet and learn something from the players of other states, but also develop their talent to meet the challenges of the future.
While various folk dances of Assam were performed on the occasion, the performance of traditional Gatka also enthralled everyone.
Federation President Harcharan Singh Bhullar IPS attended as a special guest on the occasion. Manvinder Singh Vicky, Jagdish Singh Kurali, Raghbir Singh Dehlon, Jagkiran Kaur Waraich, Jaswinder Singh Pabla were present on the occasion among others.