Punjab Government urged to give addicts opium, poppy husk on prescription to tackle drug menace: The Punjab Government has been urged to give opium or poppy husk on prescription to drug addicts in a controlled way, with an NGO headed by a former IPS officer and a few others writing to the Punjab Governor, saying this will help in tackling the drug problem in the state.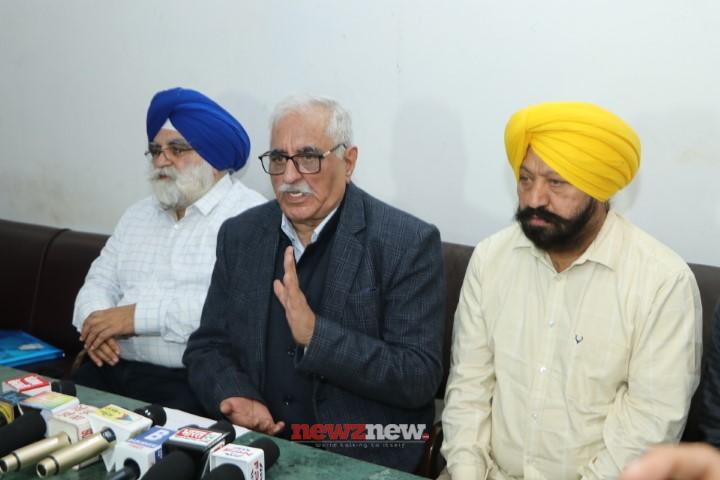 They said due to synthetic drugs, addicts are becoming impotent, crime is rising and so are cases of divorce.
It has been submitted that the Punjab Cabinet should amend the NDPS Act and there should be no police case against those possessing 5 grams opium and 500 grams poppy husk.
The letter written to the Punjab Governor, Chief Minister Punjab, Ministers and all MLAs  by Iqbal Singh Gill (Retd) IPS officer and General Secretary, Jaswant Singh Chhapa, Member and Dr Inderjeet Singh Project Director of Dr Dwarka Nath Kotnis Health and Education Centre (Charitable Acupunture Hospital and Research Centre), Ludhiana, states, "As for your information if one takes synthetic drugs, it is physically and mentally harmful. But it has been noticed that if one takes opium or poppy husk, there are no physical or mental side effects. Also, people who take synthetic drugs do not think before committing any crime as they lose their mental balance. Thus rapes, thefts, dacoits, snatching are on the rise in Punjab. Besides these, cases of divorce have also increased."
The letter also stated that the state government will have to shell out less on medicines for drug addicts and will earn revenue if poppy husks are sold legally. They urged that after due deliberations and discussions, the government should issue a notification and allow sale of poppy husks to drug addicts registered with it from state controlled centres to save the youth of the state and bring down the crime rate.
Dr Dwarka Nath Kotnis Health & Education Centre Ludhiana has played a key role in de-addiction of youth since 1995 and has been felicitated by the Punjab government from time to time.
"It may be mentioned here that the governments have not done much with regard to drug abuse and the steps taken by your good-self show your intention to bring out the youth from this drug addiction", they have said.
The letter has further stated that hundreds of youth from poor families are falling prey to drug addiction which has ruined their lives which is a matter of grave concern in the state. It has been added that even the girls were falling prey to it.
During the last government several youth lost their lives from Chitta ('Chitta' or diacetylmorphine is an adulterated form of heroin), after which the government banned the use of syringes and some drugs. The government was apprised that this could lead to increase in HIV infections and would lead to costly treatment of the poor and this order was withdrawn.
The NGO has sent some recommendations to the Punjab Government As per the recommendations, it has been stated that while excise act is not implemented on two liquor bottles, there is NDPS Act on 5 gram opium or half kg poppy husk, adding that these two did not have health hazards.
The NGO has requested that the issue be taken up in the Punjab Cabinet and a notification in this regard be issued. The notification should allow the youth which is into synthetic drugs, to consume  5 grams opium and  500 grams  poppy husk. "This would also keep a check on the smuggling from neighbouring countries and curb crime as well, besides of course it will bring down drug trafficking cases in the courts", the representation added.
It has been further stated that Punjab state will progress if a decision is taken in this regard as it would help in bringing down the drug addicts in the state.
Iqbal Singh and Inderjeet Singh told media persons that the Punjab government had introduced a license system for setting up deaddiction centres and having a psychiatrist was made mandatory, not understanding that drug addiction is more of a social evil and not a mental issue.
"In 1995 only elderly used to come to deaddiction centres but now children and women are also victims of drugs. However there are no deaddiction centres for women and juveniles, who cannot be referred to deaddiction centres and only counselling is done", they said. They added, "What was required is amendment and easy conditions should be laid down for setting up such centres, adding that 35 years back opium was prescribed as a step towards detoxification, which should be introduced again", they added.
If the government wants to eradicate this drug addiction menace from Punjab, it should take immediate steps so that Punjab will be drugs free, they said.
The NGO has also suggested to the Punjab Government that in the meantime it can take a pilot project in one or two districts for a 'drugs free' Punjab along with the traditional system of medicines like Acupuncture, Ayurveda etc.