Team Raduaa officially announced the release date and unveiled their Motion Poster at Chandigarh Press Club today. Movie Star Casts – Nav Bajwa (Director and Lead Actor), B.N. Sharma (Actor), Satinder Satti (Actor and Anchor) and Anup Kumar (Producer) were present during the event.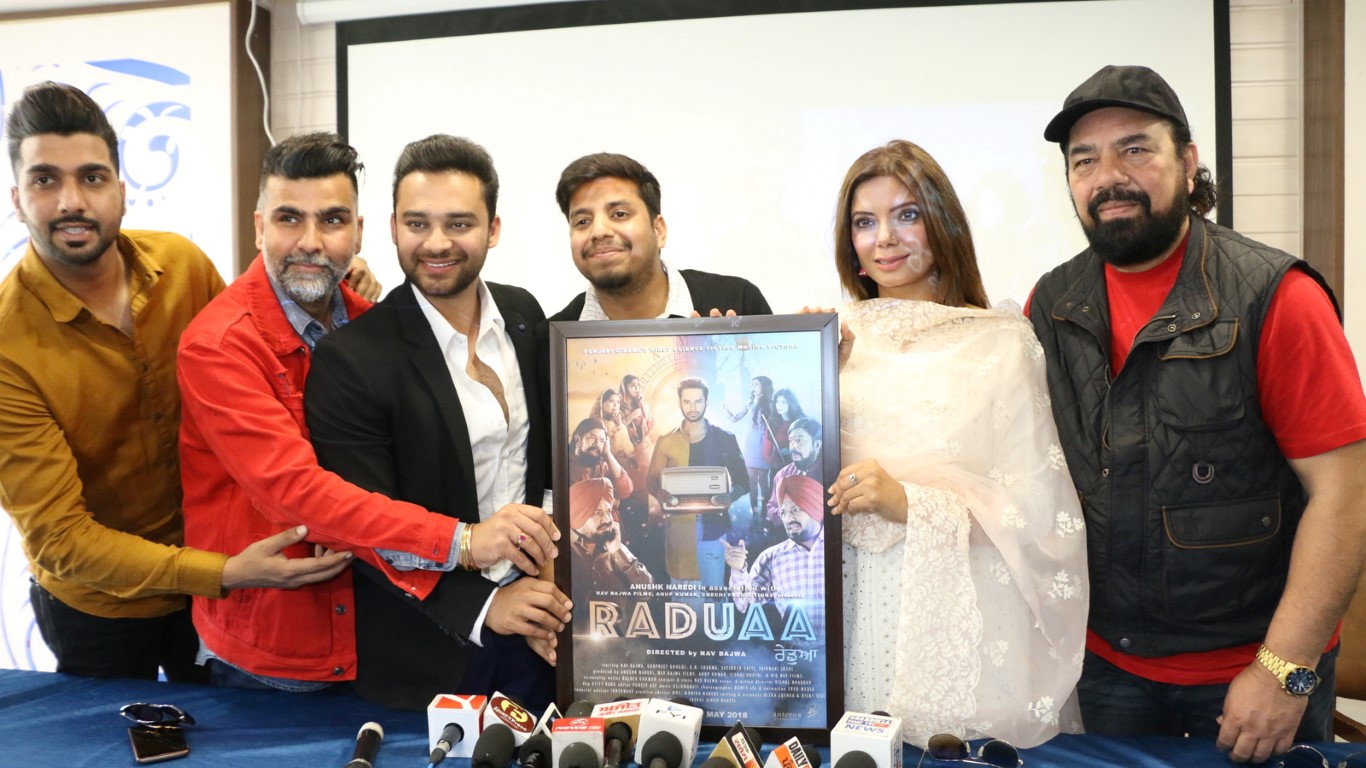 Nav Bajwa is not only acting or directing he is one of the producer who ideated the story and concept. He says "Raduaa is a present age story with a Science-fiction background plus a new and young subject in Punjabi cinema. It is based on Stephen Hawking's time and travel theory. Plotting of each and every character in the film is different and twisted accordingly to make it more crisp, fresh and unique for the audience. The content is entertaining. Being it a science fiction still it is attached with the roots of Punjab."
One of the youngest producer from Bollywood who produced Sarkar Raj 3, Mr. Anushk Naredi added, "This is the time when concept matter a lot in Punjabi Industry. Now finally the film has been completed! We have one of the best actors in movie. Its official Motion Poster is revealed digitally all over. Raduaa will release this year 11th May and this film is for everyone – family, youngsters, kids and we really hope that audience will like and enjoy this movie and thanks to our team members for all their umpteen efforts and support."
Known in the Punjabi music industry and one of the producer of the movie Anup Kumar said, "Thanks to Nav Bajwa for this wonderful concept and we are happy that we are able to bring this new concept to Punjabi Industry. The entire team has put lot of efforts and time in the completion of the film and we hope our audience will like our concept and the storyline."
B.N. Sharma says that he is incredibly proud of the final result and further added that the movieis shot in Chandigarh, Mohali and Banur. Nav Bajwa's DIY film-making, process, empowerment and the environment – all served with a healthy spoon of entertainment.
Movie Raduaa is Produced in collaboration under the banners of Anushk Naredi, Nav Bajwa films, Anup Kumar, Chechi Production, and Big Bat Films. The music of the movie is given by Ulumanati, DOP by Gifty Kang and edited by Puneet Asp,"