Punjabi Movie Kaka Ji Star Cast, Story, Release Date 18th January : Punjab's renowned actor Dev Kharoud, Jagjeet Sandhu, Lucky Dhaliwal and actress Aarushi Sharma reached Chandigarh on the announcement of their upcoming Punjabi movie 'Kaka ji.'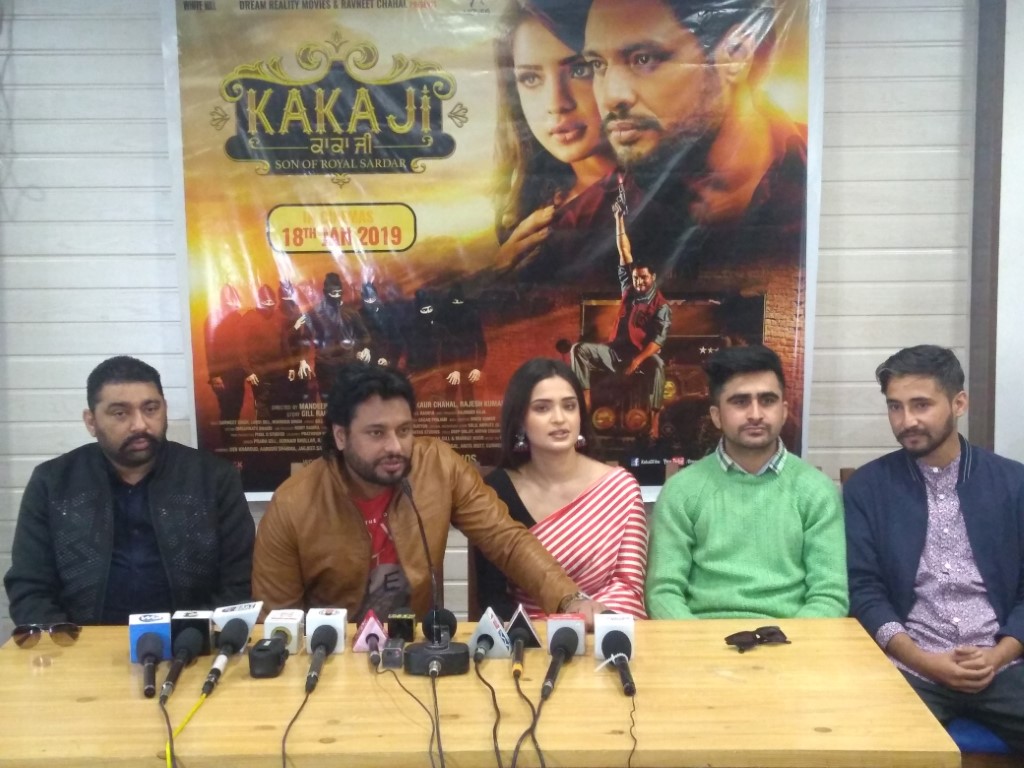 Director of the movie Mr. Mandeep Benipal along with producer Rajesh Kumar and Ravneet Chahal were also present in the program.
Kaka Ji is a romcom, story of late 90s when the gangs of "kale kachia wale" was the most talked in Punjab. During this time of terror Kaka ji (Dev Kharoud) fell in love with Deepi (Aarushi Sharma) a college going girl from another village. The story is about how kaka ji the son of royal sardar Avtar Singh Brar, save his love.
The star cast of the movie includes talented and famous actors Dev Kharoud, Aarushi Sharma, Jagjeet Sandhu, Seher, Dheeraj Kumar Lucky Dhaliwal, Anita Meet, Parkash Gadhu & Gurmeet Sajan. Renowned director Mandeep Benipal gave this film an amazing direction which is going to connect the hearts of millions.
The direction of the songs and music are given by Gurmeet Singh, Laddi Gill, and Ikwinder Singh. Rajesh. White hill Studios has worldwide distribution  rights of the music and story written by renowned lyricist Gill Raunta
Talking about the film Dev Kharoud said," I have always loved to experiment with my work and this time I have come up with a Kaka Ji which is completely different from the genre of films which I have done before.
It was truly a pleasure and honor to play the role of Kaka Ji. The film will take you back to the era of the late 90s and one can relate it to their life experience" adding to it Aarushi Sharma said "I feel lucky to work with experience and renowned personalities from the industry. I enjoyed playing the role Deepi"
Speaking on the occasion, Mandeep Benipal (Director) said, "Kaka ji is very entertaining and close to my heart. I have tried my best and have put all my efforts to bring out the best. Our entire team has worked day and night on this film.
We have chosen very unique type of concept which is very first of its kind in Punjab. This film is made to make people laugh and to enjoy it with their entire family.
After giving three back to back punjabi super hits (Rupinder Gandhi 1, Rupinder Gandhi 2 and Dakuan da Munda) Kaka Ji is the forth movie under the banner of dream reality movies banner.