Rajnath Singh inaugurates Gaushala at Raipur Kalan Chandigarh: Sh. Rajnath Singh, Hon'ble Raksha Mantri, Government of India today inaugurated the Gaushala at Raipur Kalan, Chandigarh in the presence of Sh. Banwarilal Purohit, Governor, Punjab and Administrator UT, Chandigarh, Smt. Kirron Kher, Member of Parliament, Sh. Anup Gupta, Mayor, Chandigarh, Dharam Pal, IAS, Adviser to the Administrator, Sh. Nitin Kumar Yadav, IAS, Local Body Secretary, Ms. Anindita Mitra, IAS, Commissioner, MCC, Sh. Kanwarjeet Singh Rana, Senior Deputy Mayor, Sh. Harjeet Singh, Deputy Mayor and area councilor and other prominent persons of Chandigarh.
While speaking on the occasion, Hon'ble Raksha Mantri said, "The Gaushala is a symbol of our respect and reverence for cows. It is our duty to take care of these animals, which are an integral part of our culture and tradition. Appreciating the work towards the stray animals in city beautiful, he said that the Municipal Corporation Chandigarh has taken this initiative to build state-of-the-art Gaushala, which will not only benefit the cows but also serve as a model for other cities to emulate."
He said that Chandigarh is a leading city, which accommodated the animals in a very managed and clean atmosphere. He said that cow is considered a symbol of Indian civilization, culture and traditions and has been given the status of mother in religious texts and is worshipped. He said that in our country cows are believed to possess divine qualities and highly respected in India, where they are considered symbols of peace and purity.
The Hon'ble Raksha Mantri said that we should not treat other species for seeking only benefit from them or for any kind of interest only but we should treat them as equal partners on earth. He said that as human beings we must have power to govern but we should keep the interests of other animals, birds and other species present on earth as per their needs.
He further said that the government has enacted various policies and laws to protect cows. He lauded the efforts of MCC to not only protect the stray animals from the city but also providing them healthy atmosphere by constructing modern cow sheds besides providing hospital for them inside the Gaushala compound.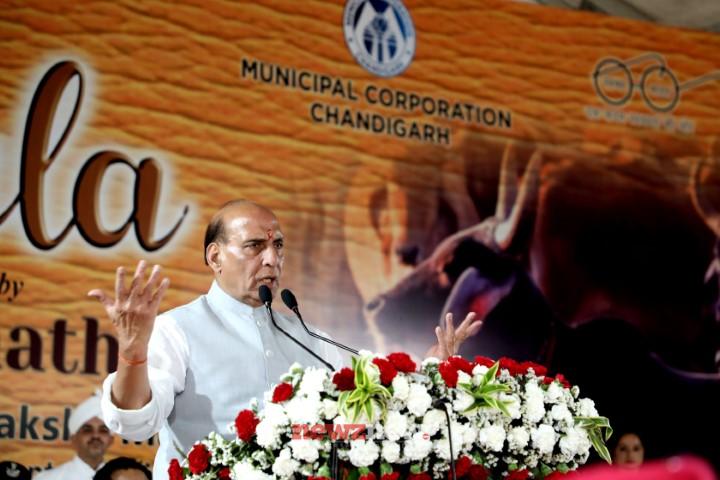 Sh. Banwarilal Purohit, Governor of Punjab and Administrator UT, Chandigarh, appreciated the MCC's efforts to promote animal welfare. He said that this project will set an example for other cities to follow. He said that the Gaushala will provide a comfortable and healthy living environment for the cows. He also stated that this project will contribute towards promoting eco-tourism in the city.
While addressing the gathering Smt. Kirron Kher, Member of Parliament, said that the Gaushala is a significant step towards the conservation of cows in the city. She praised the efforts of the MCC for providing a safe and hygienic environment for the cows. The calf of cows will also benefit from this project as they will be provided with a safe and nurturing environment to grow.
Sh. Dharam Pal, IAS, Adviser to the Administrator highlighted the maintenance system of the cows in the Gaushala, spread in 3.86 acres on Phase-I with capacity to accommodate nearly 1000 cows. He said that second phase will have 1.06 acre of area while on 3rd phase will have 7.49 acres of covered area. He said that the first phase having cattle sheds, fodder sheds, residential area for care takers, green belt and grazing ground. He said that the cows have been provided with proper shelter, nutritious fodder dry and green, clean water and a team of trained caretakers on a regular basis. The hygiene system will be maintained to ensure a clean and healthy environment for the cows. Medical facilities will also be provided in case of any health issues of the cows.
Sh. Anup Gupta, Mayor, Chandigarh expressed his gratitude towards all the dignitaries for their presence at the inauguration ceremony. He also thanked the MCC officials and the general public for their support in making this project a success.