Jaipur, 13th Feb 2016:  In less than two decades R.A.K Ceramics has firmly established itself as one of the world's largest manufacturers of high quality ceramic wall & floor tiles, vitrified tiles and sanitaryware. One of the world's most promising tile manufacturers, RAK Ceramics has launched its first flagship showroom in Jaipur, Rajasthan. This new showroom has been launched with an intention to provide their customers a one-stop shop to view the enormous and exquisitely crafted collection.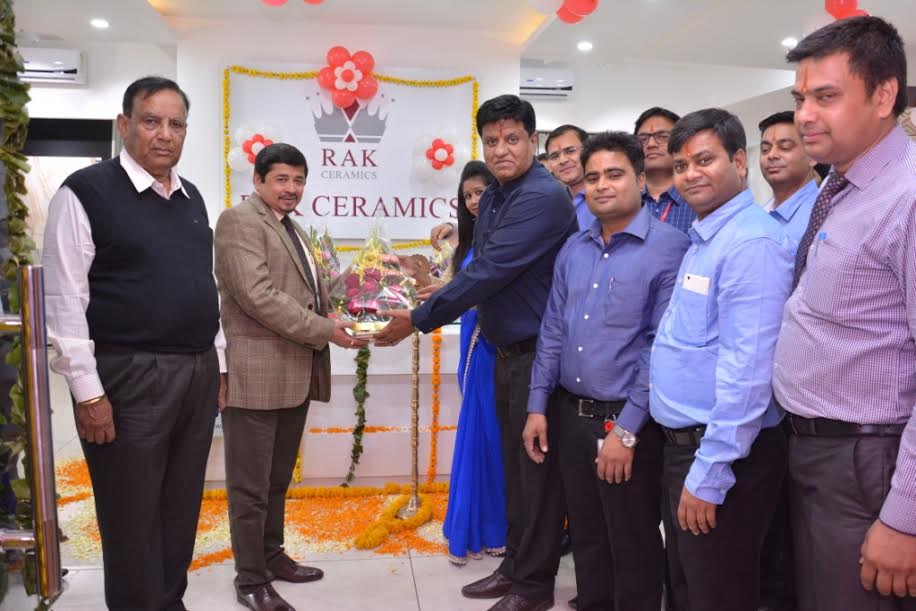 The company intends to increase its retail presence across India by adding to its existing roster of 11 successful showrooms in prominent markets such as Mumbai, Delhi, Ahmedabad, Pune, Cochin, Bangalore, Chennai, Chandigarh, Dehradun and Coimbatore. This brings to the 12, the number of exclusive showrooms launched by RAK Ceramics. Each of these 12 showrooms is company-owned and consists of effectively trained personnel who assist in picking the most suitable products depending on the customers' requirement. In addition, the company has bolstered its nationwide presence by opening 100+ unique format franchised-stores such as Privilege Stores and Select Stores.
Elaborating on the rationale behind this new launch, Mr Rajeev Singh, President – Sales and Marketing at RAK Ceramics, said, "Rajasthan is a very prominent market for us in terms of its market attractiveness and potential, making it imperative for us to open a flagship showroom in the state. As a company, we are committed to providing our customers with the most stellar of products, which not only are of unparalleled quality but also are competitively priced. We believe in investing the time in creating cutting-edge innovative products, which will surpass prevailing customer expectations. We encourage the customers to walk in to our closest showroom to view and select the best tiles from a wide range of collections.
RAK has been the pioneer in vitrified technology in India and has always been one step ahead of its competitors in discerning key market trends and is first to evolve new products. In a bid to satisfy the increasing demand for glossy tiles in solid colors, RAK Ceramics has recently launched KRATOS, a collection of high-gloss double charged vitrified tiles and slabs. KRATOS has been launched as an extension of the company's extremely popular line – the NOVELTIES series. In addition, the company has launched new Series DELTA, VOLGA and IRISH FLAKES to bolster its product portfolio. The new collections all display stunning designs that promise to change the ambience and the landscape of the surroundings.