Raman Dewan's song 'Haath Mein Mauli' launched: Song 'Haath Mein Mauli' sung by well-known singer of devotional songs Raman Dewan was launched at a press conference here at Chandigarh Press Club.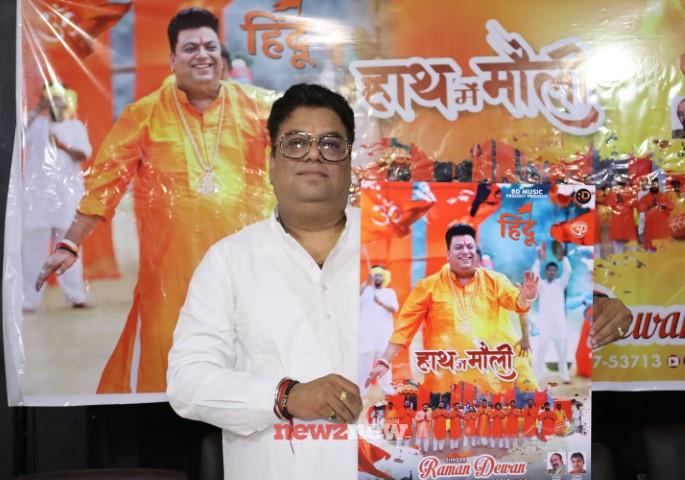 Apart from the singer, others who were present at the launch were social worker Sonu Sethi, Mukesh Inayat, Muninder Chanchal and others. All of these people feature in short roles in the song's video too. Yogi Suraj Nath Ji, a respected Hindu Religious Guru was also present.
First a preview of the 4-min video of 'Haath Mein Mauli' was held and then details of the song were shared with media in a press conference.
Dewan said that he got motivated to record the song due to an incident related to his own son. Raman said, "Years back I was shocked when my eight-year-old son removed 'Tikka' on his forehead and also showed reluctance to wear 'Mauli', the sacred thread worn on one's wrist by Hindus after a visit to a temple. He told me that his friends make fun of him when he wears these pious Hindu accessories."
"I told my son that 'Mauli' is our 'Kawach' as nine mantras are recited by the temple priest while tying the sacred thread on the devotee's wrist. It is a protection from evil for us. 'Mauli' is so revered that these are not only tied by temple priests on devotees' wrists but also used during Raksha Bandhan which is a solemn festival that showcases the love between brother and sister. It is 'Sutradhar' that connects all Hindus to the almighty," said Raman.
"One feels positive after applying 'Tilak' and wearing a 'Mauli' in the morning," added Dewan.
Dewan said further, "I made up my mind to sing 'Haath Mein Mauli' to make a sincere and honest attempt to spread the beauty of Hinduism as a religion and to drive home the message to our youth that they should showcase our religious 'identity' as is done by the believers of other religions."
Talking about the song, Raman Dewan said that the message of the song is that wearing a 'Mauli' and putting 'Tilak' on the forehead is a protocol that all Hindus should follow as this is an important part of Hindutva, which is a way of life.
The song's audio recording and video production took 1.5 months. Audio recording itself took a month and 15 days were spent on video production and post production. The song's lyrics are effective and the video has high production values. The label that has produced the song is R D Music. Lyrics of the song are by Ravi Chopra who has also written songs sung by Bollywood singers like Kumar Sanu, Sonu Nigam etc. The music has been taken care of by Vinay Vinayak and the video director is Vicky Ghai.
The production of the song has received support from Vikas Gaur from USA and Sonu Sethi of Sethi Dhaba, Zirakpur.
"My song talks about the need for Hindus to be more vocal in showcasing their identity so that the world recognizes the symbols of Hindus as these have been a part of Sanatan Sanskriti for thousands of years," concluded Dewan.