Children suffering from congenital heart diseases attend fun-filled event at Fortis Mohali: Fortis Hospital Mohali organised several fun-filled activities and a magic show for children suffering from congenital heart diseases on the occasion of World Heart Day.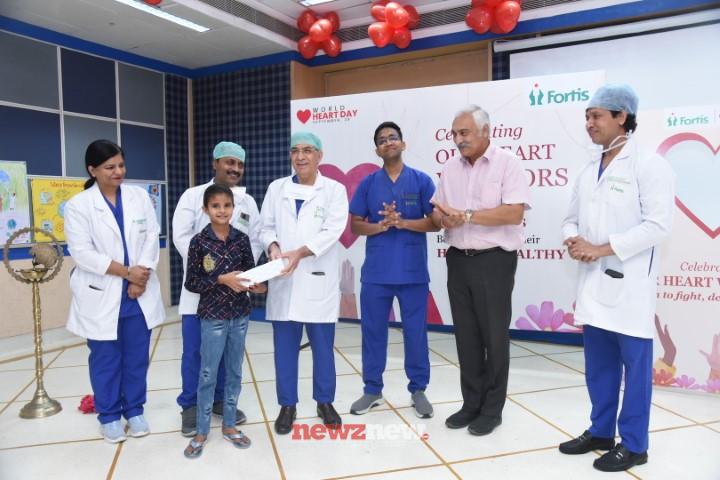 The parents of more than 40 children who had undergone open heart surgeries or cardiac interventions at Fortis Mohali took part in the event.
Dr T S Mahant, Executive Director & Head- CTVS gave an insight into various technologically advanced treatments that were being offered in Paediatric CTVS (Cardiothoracic and Vascular Surgery) at Fortis Hospital, Mohali.
He said, "The Department of Paediatric Cardiac Sciences at Fortis Mohali has made remarkable achievements and is the only hospital in the region to receive patients not only from Punjab, Haryana and Himachal Pradesh, but also from Pakistan, Afghanistan, Iraq, Mongolia and South Africa."
In his welcome address, Dr Rajat Gupta, Consultant – Paediatric Cardiology, Fortis Hospital Mohali said, "Around 500 cardiac surgeries and interventions are conducted at Fortis Mohali every year with results at par with the latest world standard. Congenital Heart Defect (CHD) is the most common cause of infant death in India, it is estimated that more than 1,80,000 children are born with CHD every year. Many infants with CHDs require surgical intervention within the first year of life, else the condition can prove to be life threatening. Timely intervention is hence important in such cases." He also elaborated on the warning signs which should be taken seriously.
The parents of these children also shared their experiences of their children undergoing treatment at Fortis Hospital Mohali.
RJ Golmaal Gagan entertained the audience with his interactive and engaging session.
Among other prominent guests present from Fortis Hospital Mohali, were Mr Ashish Bhatia, Business Head-Punjab; Mr Abhijit Singh, Head-SBU; Dr Ambuj Chaudhary, Additional Director – CTVS; Dr Vikramjit Singh, Medical Director; Dr Manoranjan Sahoo, Director – Cardiac Anaesthesia; and Dr Garima Garg, Consultant – Paediatric Surgery.
About Fortis Healthcare
Fortis Healthcare Limited – an IHH Healthcare Berhad Company – is a leading integrated healthcare services provider in India. It is one of the largest healthcare organizations in the country with 28 healthcare facilities, 4,500+ operational beds (including O&M facilities) and over 400 diagnostics centers (including JVs).
Fortis is present in India, United Arab Emirates (UAE), Nepal & Sri Lanka. The Company is listed on the BSE Ltd and National Stock Exchange (NSE) of India. It draws strength from its partnership with global major and parent company – IHH, to build upon its culture of world-class patient care and superlative clinical excellence.
Fortis employs ~23,000 people (including Agilus Diagnostics Limited) who share its vision of becoming the world's most trusted healthcare network. Fortis offers a full spectrum of integrated healthcare services ranging from clinics to quaternary care facilities and a wide range of ancillary services.