Ready to Cook food myths busted during Winter food fest: Winter has finally arrived, and who wouldn't enjoy cosy evenings at home or the festive occasions that go along with them?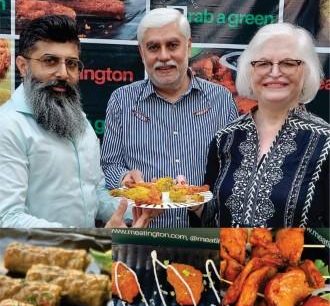 It is impossible to have a holiday celebration without tasty snacks that are easy to prepare, nutritious, and delicious, and you can never do that without tasty delicacies that are simple to prepare, and meet the criteria for the celebration, ready to cook delicacies are surely proving to be the most ideal choice during winters.
Previously, ready-to-cook food contained preservatives, but those days are long gone. In order to dispel certain myths associated with frozen food and highlight how ready-to-cook options have emerged as the healthiest and most convenient options during winter, a tasting ceremony was organized in Delhi and Chandigarh.
At a tasting ceremony hosted by Meatington and Grab a Green, some easy-to-cook and delicious winter snacks were presented to food aficionados. Meatington Co-founders Neeta Malik and Ashutosh Malik and Co-Founder Entrepreneur Chef Sachin Sahgal organised this event.
A live demonstration of ready-to-cook delicacies was given by Sachin Sahgal, and the vast variety of food included kebabs, tikkas, Rumalis, tikis, patties etc. These delicacies were served with a variety of breads and rumalis, making them an ideal choice for winter celebrations.
Neeta Malik elaborated on the reasons why ready-to-cook meals are an ideal choice for winter and busted myths about them. In regards to the same, she stated, "When you have a busy schedule and have lots of commitments, ready-to-cook food and snacks are the preferred option.
In addition to being convenient, it also saves you from having to cook time-consuming meals. Added further, she said, "The second benefit of frozen foods is that they can be prepared quickly. They are quick and easy to prepare, making them ideal for everyone. Their accessibility and convenience make them even better!
The event was graced by Ashutosh Malik, who elaborated, " Winter evenings are the most ideal time for tasty treats and the most suitable option here is a perfectly cooked bowl of soup or brown rice, which pairs beautifully well with frozen food combinations, making your winter evenings wholesome and enjoyable.
And to get this experience you only need to open your box of ready-to-cook food and heat it up, saute it or microwave it. Frozen foods have a longer storage life, in addition to being accurately weighed, allowing you to prepare as much as you like and keep the remaining for the next time. This ensures that extra food is not cooked and thrown out. All the wastage that occurs while preparing the meal is also saved here.
According to Sachin Sahgal, there are many brands who are no longer using artificial essences, colours or preservatives in their frozen food and insted opting for herbal ingredients to keep the food fresh and nutrition rich.
Furthermore, freezing food preserves micro and macro nutrients, preventing harmful bacteria from growing. Using high-tech packaging innovations and natural herbs, Meatington keeps food intact without the use of preservatives, concluded Sachin Sahgal.