NewZNew (Chandigarh) : Tushar Foundation , a tricity NGO which has the distinction  to receive an award from Governor and Home Secretary for the 'Best NGO in Chandigarh to work on Female Foeticide', in association with India Book of Records, will be organizing a health seminar, 'How to Cure Diabetes' on August 20, 2016 at Indra Dhanush Auditorium, Sector 5, Panchkula. This was announced by Dr Biswaroop Roy Chowdhury, Chief Editor of India Book of Records & Yadvinder Singh, Founde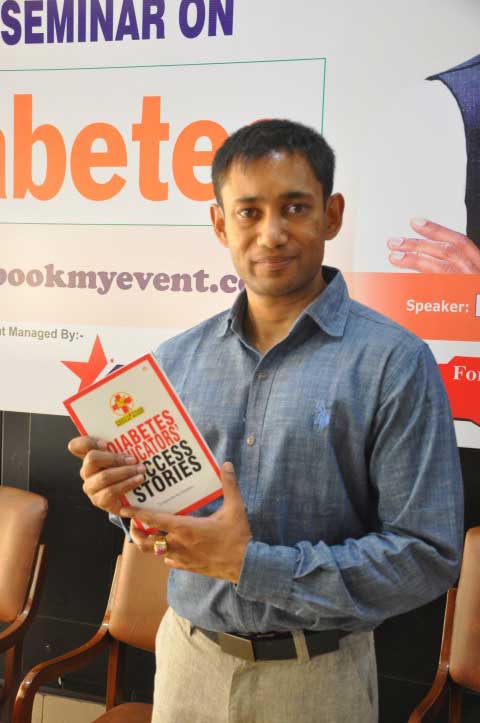 r, Tushar Foundation at a press meet held in Press Club, Chandigarh. Dr  Biswaroop's latest book 'Diabetes Educators' Success Stories' was also unveiled at the event.
The seminar will be conducted by Dr. Biswaroop Roy Chowdhury who is a Diabetes specialist. He has written more than 25 books on mind, body and health including best sellers, 'Last Days of Diabetes',  'Heart Mafia' and 'Diabetes Type I & II , Cure in 72hrs.' His latest book on Diabetes is 'Diabetes Educators' Success Stories'. He is not just an Author but also a Post Graduate in Diabetes Education(Vietnam), Two times Guinness World Record Holder, Renowned Medical Nutritionist, A Doctorate in Public Health(Vietnam) & much more.
 "The Seminar will be held from 6-8 PM. Those interested to attend the same, which is an effort to rid tricity from the scourge of Diabetes the natural way, can log onto www.bookmyevent.com or simply call on 9815409107."Said Yadvinder Singh.During the interaction with the press, Dr Biswaroop shared some facts on scientific methods of improving lifestyle to get rid of Diabetes in 3 days, while discussing his book 'Diabetes I & II Cure in 72 hours'.
"At the seminar we will also reveal the untold Science, Commerce and Arts of Diabetes and also reflect on side effects of Diabetes medications particularly of insulin. I will be teaching people attending the seminar how to be Diabetes free in 3 daysby highlighting some simple and powerful techniques/steps to cure diabetes and other associated illnesses by following some lifestyle modifications and diet changes." Said Dr Biswaroop. It is noteworthy that his techniques are based on latest scientific research/evidence and Nobel Prize winning science. Dr Biswaroop also showcased his latest book  'Diabetes Educators' Success Stories' during the press meet. In this book he has documented success stories of  Diabetes Patients who cured themselves following his diet plan and are now completely free from Diabetes and other associated lifestyle illnesses like High BP, High Cholesterol, Obesity etc. "I  strongly believe that, 'You Don't Need Medication, You Need Education' to be rid of current lifestyle disorders." Adds Dr Biswaroop.
Dr. Roy has enriched his knowledge by travelling across the World, he has been spending a good time in Vietnam, & now has promised to serve the diabetes patients of tricity in the best possible way. The NGO Tushar Foundation has come up with 'Freedom From Diabetes' a special session on How to cure Diabetes in 72 Hours by Dr. Biswaroop Chowdhury to coincide with India's 70th Independence Day. The NGO believes that with such initiatives awareness can be created against Diabetes.
Though it is the first step by Tushar Foundation and Dr. Roy to make people health conscious, more such noble initiatives will be coming soon.So it's time to make tricity healthy come & Reclaim Freedom from Drugs, Diabetes & Doctors.