NewZNew (Chandigarh) : Simi Srivastava is a Master storyteller & Founder-Director of 'Kathashala' a storytelling institute for adults and storytelling studios for children. What makes the institute unique is its curriculum that is based on performing Arts including folk & traditional forms of story-telling like Phad, Kawad, etc. Simi conducted a story telling session for students of Dikshant International & Global Schools in the Dikshant Global School campus, Zirakpur. The story telling session was quite a draw as it was a Musical dramatization of a story 'We're going on a Bear Hunt.'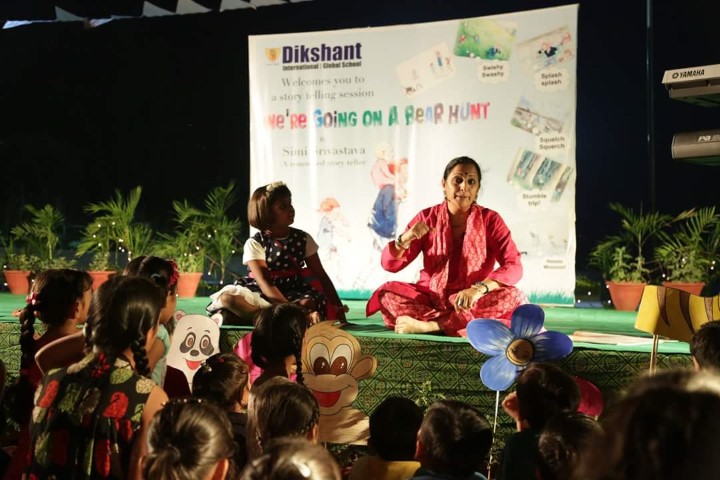 "Starting with this session we have made a plan to hold a series of story-telling sessions for parents and students to stimulate the thinking and imagination power of children. There are two such sessions planned every month with well known story tellers of the country & abroad. Some of the future events planned are 'Dastangoi' by Ankit Chadha among others." Said Mitul Dikshit, Chairman, Adab Foundation & of Dikshant Group of Schools.
Simi interacted with media during her visit to Chandigarh & Zirakpur. "I am essentially a soft-skills, life skills trainer, and a performing artist. Being professionally trained in Theatre, Creative Music, Movement, Miming, and Puppetry, I try to combine these effectively while performing story telling sessions. In think this is what the children enjoy the most." Said Simi Srivastava.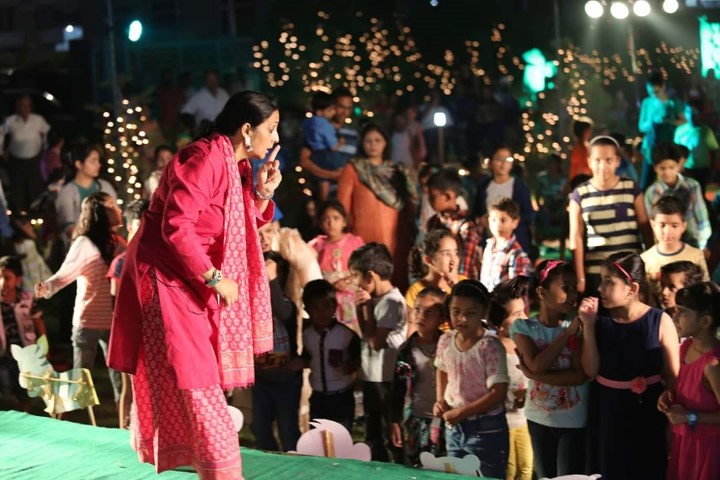 Awarded with the International Education Innovator Award in December 2013, Simi is currently doing research to use storytelling as a therapy, particularly for the children in the age group of 3 to 7 years. "Psychology and theatre are a wonderful combination.  Narration enables the storyteller to help identify a child's problem, study the cause and find a solution without making the child conscious of it." Added Simi.
It's noteworthy that Simi has designed and held storytelling sessions for differently abled kids at various schools across the country. She is currently studying autism to aid her write stories for autistic children.
She has written 5 short stories for children which are in the process of being published.
Simi is currently conducting workshops with school children and educators all over India on behalf of Scholastic India. She is also working closely with Pratham Books and Britannica to promote stories and the love for reading in children and parents alike.