NewZNew (S A S Nagar) : Tricity's & Punjab's biggest Mall – The North Country Mall, organized a three day extravaganza for kids. Named 'Fun Fair with Chhota Bheem', the iconic animation character Chhota Bheem & his popular friends were brought alive in the event. It is noteworthy that all of kids' favourites — Chhota Bheem, Chutki, Raju & Jaggu and Mighty Raju who were present during the celebrations, were licensed characters & the mall had got them from Green Gold Animation– the company which owns all rights related to the characters.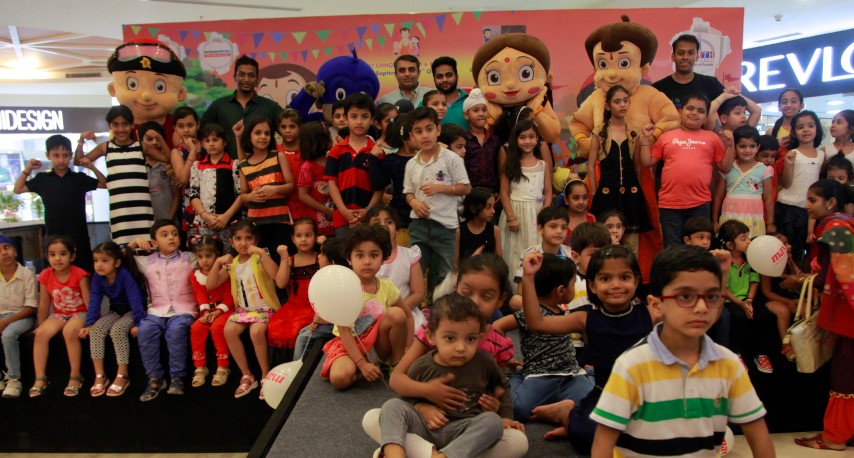 According to Nitin Bir, VP, NCM, "We aim at providing visitors wholesome family entertainment besides amazing shopping options and exciting gifts as rewards to shoppers. The icing on the cake was certainly the special dance performances with Chhota Bheem & friends. Kids' got a chance for an exclusive photo-shoot session with Chhota Bheem & other characters. This is just the kick start of the festive season and there is lot more to come."
'Fun Fair with Chhota Bheem' filled the air with joy. Kids' felt like they were in Dholakpur, the village to which Chhota Bheem belongs. The children were excited to see & touch their favourite characters that they had only seen on TV or films, as they participated in a 'Meet & Greet' with Chhota Bheem & friends. Kids shook hands with Chhota Bheem & his friends while parents gloriously took pictures to etch the moment for eternity.
The event also saw coloring competitions for kids and a fashion show with Chhota Bheem and Chutki.