Our Govt is both pro poor & pro industry says Jayant Sinha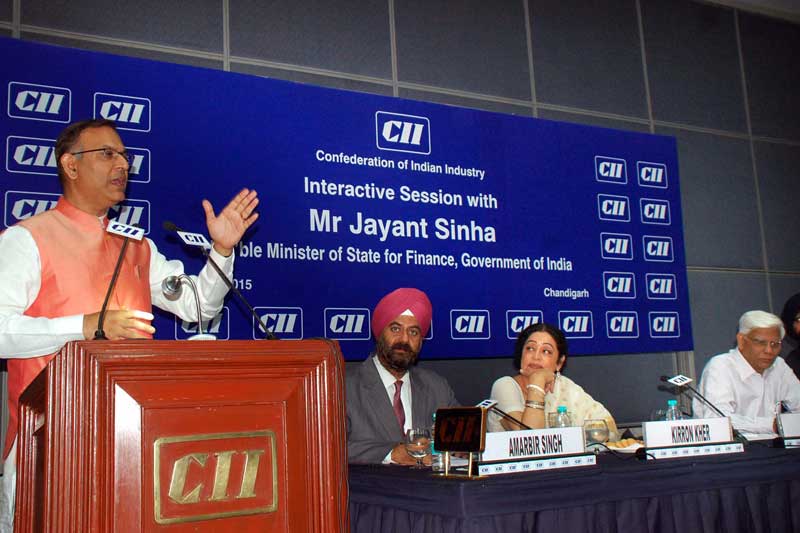 NewZNew (Chandigarh) : "It has been an incredible year for India, with all Government's endeavours targeted towards ensuring that the fruits of India's growth story and the benefits of our policies, and schemes reach the last man in the remotest parts of the country", said Mr Jayant Sinha, Minister of State for Finance, Government of India while addressing a mass gathering of industrialists from Punjab, HP, Haryana and Chandigarh region at a session organised by Confederation of Indian Industry (CII) at CII's Northern Region Headquarters in sector 31 A, here today.
"We have striven hard to fulfil our campaign slogan 'Sab ka Saath Sab ka vikas' on the basic principle of 'Antyodaya' which means to serve the last person at the bottom of the pyramid. In India, serving the poor and the needy is not a matter of politics but is the moral responsibility of all of us and our Govt's policies, actions and projects are centered around this theme only ", further added Mr Sinha.
"Though our government is hugely dedicated to the poor, marginalized and those left behind, but we are also pro– industry, because we know the significance of industry to make the resources and job avenues available to the poor and unemployed youth", he shared.
He further informed that "Our Govt has completed its first year with a strong foundation laid in the form of various revolutionary initiatives and universal security schemes like life insurance, healthcare insurance, pension and direct subsidy schemes linked with Jan Dhan Yojna, MUDRA Bank, PM Grameen Sadak Yojna, Swachh Bharat Abhiyaan, Skill India, Digital India, Make in India etc guided by the doctrine of Antyodaya'. Our PM Sinchaai Yojna which aims to irrigate each and every part of Indian farms throughout the year would be a real game changer, as it would allow farmers to grow crops thrice a year instead of just once a year depending on the monsoons, hence increasing their incomes".
Our Govt's efforts have been guided by Four Principles, namely – A departure from Entitlement to Empowerment wherein we do not believe in just entitling the citizens of various rights, rather in finding the ways and means to help them benefit from the Govt's policies and schemes; Minimum government and Maximum Governance providing a policy based system full of transparency; Cooperative fiscal federalism with a landmark 10% rise in states' share from devolution of Govt's tax revenues from 32 % to 42 % to make states more responsive; Being Pro-industry and Pro-poor at the same time", informed the MoS.
"Our major achievement has been the restoring of macro-economic fiscal stability and reviving the investor confidence in India. When we took over a year ago, confidence in the India growth story was at its lowest ebb, inflation was at 8-10 % for many years, fiscal deficit was very high at 4-5 %, Current Account deficit was regularly at around 5 %, unabated corruption and indecisiveness on the part of the government kept the investors away from India. Our expenditure was at 18 lakh crore with the revenue at 12.5 lakh crore, hence requiring us to employ tight fiscal consolidation measures and reducing expenditures to restore the balance and reduce this deficit of 5.5 lakh crore. Fortunately, oil prices too fell down sharply to enable us restore this balance in just 1 year", he informed.
"Now, with a much stronger fiscal condition, we all can reap the benefits over the next few years. We can soon expect RBI reducing the interest rates in June. We believe that, once India's productive capacities are in place, the Indian economy would easily grow at 9 -10 % sustainably in next decades", he informed the CII members.
The Govt is also planning to invest hugely in infrastructure sector namely the railways, ports, roads, and power sector. We would invest Rs 1 lakh crore in Railways. This would give a five time boost to the economy as a whole. We are planning to have separate rail tracks for Freight, passenger, super-fast and very high speed trains. In addition, we would invest 1 lakh crore each in roads and power sector positively", informed Mr Sinha.
"Further our strong policy measures to enhance the ease of doing business, easing norms for FDI, consistent policies and our resolve to bring in GST and key bills for the benefit of industry  and above all, a corruption free environment has led to a very positive investor and business sentiment for India globally", added Mr Sinha.
"Chandigarh Industrial Policy is expected to be out next week, announced Mrs Kirron Kher, Hon'ble Member of Parliament from Chandigarh.
"The policy, which is in the last stage of finalisation, would put huge impetus on green and non-polluting industries like IT & ITeS, BPOs, KPOs, skilling, light engineering, electronics, design, tourism and clean energy. Hence these sectors have huge potential in city in the coming years, as we have planned to make Chandigarh fully digital very soon", she informed.
"In its first year, the Government led by Prime Minister Shri Narendra Modi, has turned around investor sentiments and taken strong action across multiple sectors for scripting a new growth narrative. Policies have contributed to infusing more competition into the market, harnessing new levers of growth, and dispersing more powers to state governments in the spirit of federalism." The Government dismantled the 'planned' economy by replacing the Planning Commission with the NITI Aayog which would formulate data-based growth strategies, added Mr Banerjee. "The Government's well-strategized macroeconomic management for inflation and fiscal prudence, resulting in lowered interest rate regime, sets the stage for a new investment cycle", shared Mr Shreekant Somany, Chairman, CII Northern Region & CMD, Somany Ceramics Ltd.
"CII is fully committed to support both the centre and the state Governments as also the administration in all their initiatives to strengthen India's position globally. CII has already joined hands with the Govt in some of its key initiatives like the Make in India Campaign, Skill India, digital India and Swachh Bharat Campaign", said Mr Somany.
"Under Make in India, ease of doing business has received special attention. Hon'ble Prime Minister aims to position India in top 50 in the Ease of Doing Business ranking from our present rank of 142nd. In this regard, CII has shared its inputs for specific areas such as setting up a business and getting clearances. CII is also partnering with the states since there are many approvals and clearances, which are in the domain of the states. We have recently signed an MoU with Lee Kuan Yew School of Public Policy, National University of Singapore to undertake study on 'Master Plan on Ease of Doing Business'. Now, we are proposing to undertake similar studies at the State level", added Mr Somany.