NewZNew (Chandigarh) : An evening at The Café@JW could be your gateway to a world of delectable dishes from places steeped in history, culture and folklore.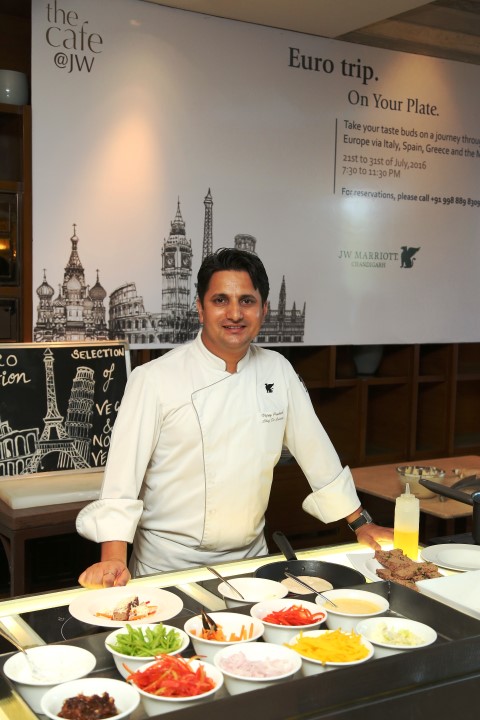 Home to the Roman, Greek and Byzantine empires centuries ago and the scene of Homer's Iliad & Odyssey, the 'Southern Europe' or 'Mediterranean' as it is popularly known, is region with a rich history which has for long attracted tourists from far and wide. However, it is not just its richness in history, as of one of the most culturally rich and exotic destinations in the world which attracts tourists, it is also their food.
Giving its patrons an exclusive opportunity to relish authentic Mediterranean cuisine, JW Marriott Chandigarh is organizing the 'Southern European' food festival at The Café@JW, its all-day dining restaurant, from July 21 to July 31, 2016. The dinner buffet will put on palate delightful delicacies from many gastronomic countries of the Mediterranean including Italy, Spain and Greece among others.
"The stunning landscapes & splendid cuisine of 'Southern Europe' make it one of the most sought after tourist destination. The cuisine, famously called the 'Mediterranean cuisine' is a favourite across the world. Known to be a nutritionally balanced diet that promotes improved overall health and well-being, the 'Mediterranean cuisine' marries health with happiness which only good food can give. The 'Southern European' food festival at The Café@JW gives our patrons a rare and exclusive opportunity to enjoy an exclusive epicurean extravaganza of Mediterranean specialities", says  Chef Naveen Handa, Executive Chef at JW Marriott Chandigarh.
The highlight of the 'Southern European' food festival is that the Chefs at The Café@JW have congregated the best and well-known recipes from the provinces of these Mediterranean countries. These distinguished and delicious food recipes have been prepared with the authentic methodology to present them in a pastoral way. During this festival, The Café@JW will setup a separate buffet for dinner with the choice of food from these countries. Patrons can start the evening by enjoying starters like Canelones de espinacas, Patatas bravas or Vegetable Gyros followed by soups like Avgolemono, Fasolada or Gazpacho, a Spanish cold soup. For salad, Panzanella is an excellent option to be tried.
"Breads and dips are a match made in heavens. Breads like Mollete (Spanish soft white bread served with olive oil and garlic) & Filone (Similar to a French baguette) which are a part of the menu of our 'Southern European' food festival are simply mouth watering, while dips like Romesco, Smoked pimentos and paprika and Tirokafteri (A spread or dip of feta cheese, roasted red peppers, and (rarely) garlic, can be spicy hot or mild) are a must have", adds Chef Naveen Handa, Executive Chef, JW Marriott Chandigarh.
The main course of the 'Southern European' food festival offers tantalizing tasty treats for the taste buds in the form of Seafood Paella, Estofado de pollo con chocolate, Gnocchi carbonara, Rosemary polenta with grilled vegetable and mushroom ragout, Moussaka, Yemista. After a sumptuous Mediterranean dinner, Tiramisu, Turkish delight and Sachertorte are choicest of dessert selections from 'Southern Europe' which invite the patrons to sink there sweet tooth in.
The patrons of The Café @ JW will get to enjoy the authentic Mediterranean sumptuous food along with world cuisine at the "Southern European" Food Festival in a set menu every night between 7.30pm to 11.30pm till July 31st, 2016 for dinner at INR 1450 onwards excluding taxes per person. Come and book your table at 0172-3955555.