Rinku Kalia brings alive magic of Shiv  Batalvi's poetry: Eminent vocalist and winner of Zee TV's realty show "Sa Re Ga Ma" Rinku Kalia   brought alive the magic of legendary Punjabi poet  Shiv Kumar Batalvi's classic poetry at a specially-designed  musical show "Birha Da Sultan—a musical tribute to Shiv Kumar Kumar Batalvi".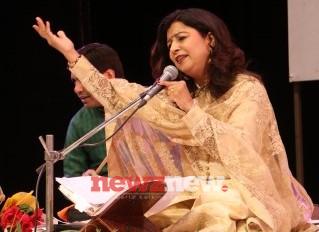 Kicking off the programme  with  soulful "rat gaye kar tara tara", Rinku   switched over to "peeda da  paraga",  "aaj pher dil", "mainu tera shabab" and  "maiye ne maiye"  exhibiting a wide range of emotions. "Shikra yaar", which   reflected the pain and anguish of a separated lover, struck an emotional chord with a select discerning audience.
Audience's  choice dominated the last segment  with the acclaimed singer obliging  a select audience  with poetic gems, including " sikhar  dophere, "mainu heere heere" and  "ki puchh deo". The classical "ye mera geet" provided the grand finale to the over-two hour show attended by music lovers from Chandigarh and neighbouring towns.
The show was organised by the Haryana Punjabi Sahit Academy, Panchkula, in collaboration with the Department of the Cultural Affairs, Chandigarh Administration, and the Punjab Lekhak Sabha, Chandigarh and S-4 Trust.
Haryana Power Minister Ranjit Singh was the chief guest while Gurvinder Singh Dhamija, Deputy Chairman, Haryana Punjabi Sahit Academy, Panchkula, was the guest of honour. Bhupinder Malik compered  the show with admirable  competence.