Under-7 Players Steal the Show at the Chandigarh Football League: The ninth edition of the Chandigarh Football League (CFL) organized by the Bhaichung Bhutia Football Schools (BBFS), concluded on Saturday, June 25.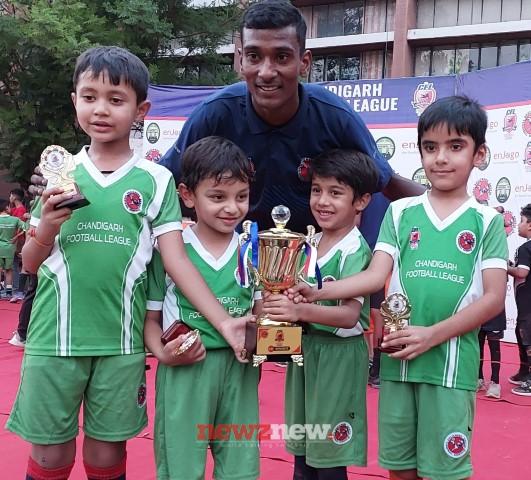 CFL is the biggest and most popular youth football league of the tri-city. CFL headed into its ninth season this year, having grown exponentially with more than 500 players participating for the month-long league.
The tournament was played at Dev Samaj College for Women, Sector 45, Chandigarh. The league was played under six age categories under-7, under-9, under-11, under-13, under-15 and under-18. The under-7 category introduced for the first time was the highlight of the league.
There were 5 teams in under-7 and the team Wolves (Kiansh Bhandari, Navroz Bahga, Reyaansh Aggarwal and Rian Bassi) led by coach Rahul won the final. Dr. Rakesh Malik, Deputy Director Physical Education and Sports, Panjab University was the chief guest at the awards ceremony.
Dr. Malik was pleasantly surprised to see the enthusiasm among the young players for the game of football and said he is confident about the future of football in the country. He empathized the need for keeping a balance between sports and education.
The structure of the CFL has been designed to identify talented players for the AIFF youth league teams (U13, U15 and U18) of Bhaichung Bhutia Football Schools – India's largest football training program. The League format is based on individual registrations and follow up assessment sessions undertaken by AFC 'C' & AIFF 'D' Licensed coaches of BBFS.
Kids register themselves as per the age group (based on the year of birth) and participate in player assessment & team training sessions. All players are assessed based on a number of technical and tactical aspects as well as their positions (defense, midfield or attack – segregated further) to form balanced teams as per the assessment grading of BBFS coaches.