Rocket Gang arrives in Chandigarh! The cool gang 'Rocket Gang' execute another stunning promotional activity: The cast of 'Rocket Gang' arrives at Chandigarh to execute another unique promotional activity at India's largest trampoline park.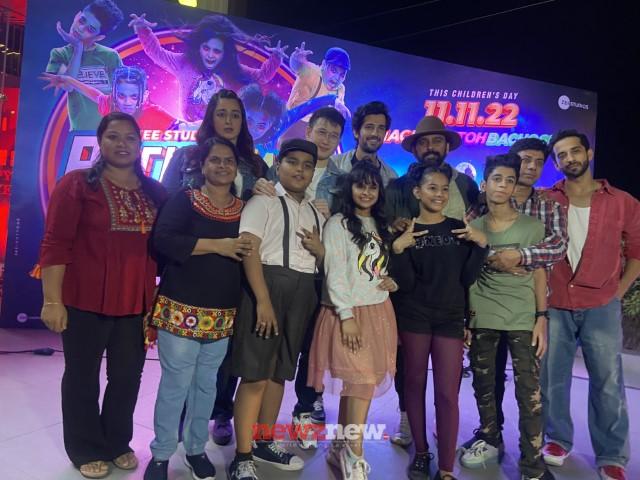 Bosco Leslie Martis-directed Rocket Gang is just around the corner and the makers are indeed at their creative best. One after other fabulous promotional activities and the fans are going crazy. Be it the social media dance challenge that went viral or the recent reveal of Ranbir Kapoor's cameo in the film, the makers are setting the anticipation quite high!
After the fans have been quite eager for the release of the film, the gang gave a personal appearance in Chandigarh to amplify the fans' curiosity!
The cool gang arrived in the city at India's largest trampoline park to give a live glimpse of their awesomeness with a stunning performance. With a total of 600 and above spectators, the whole event turned into one huge ambience of energy.
The event was a special treat to the children and no wonder they counted among the half of the crowd gathered to watch the performance. A unique attempt by the filmmakers to promote the film, the special dance performance in Chandigarh counted to be another out-of-the-box promotion that succeeded to win the hearts of the fans again!
With the release date coming closer and the exciting promotions, the fans are awaiting the release of this high-on-energy dance film.
Ace choreographer and dancer Bosco Leslie Martis' directorial debut 'Rocket Gang' is a Dance Horror-Comedy Drama starring Aditya Seal in the lead along with Nikita Dutta and the most adorable and talented child artists from a variety of popular dance reality shows.
The film looks absolutely fun-filled and interesting and is a one-of-a-kind genre. The fresh narrative and storyline involve Horror, dance and Comedy. Rocket Gang hits theatres on November 11, 2022, and is the perfect treat for children's day.