Romeo Gamer Free Fire ID Rank YouTube Channel KD Ratio Earnings, and Statistics: Today we are going to talk about Romeo Gamer, who is one of the emerging stars when it comes of Free Fire gaming community in India.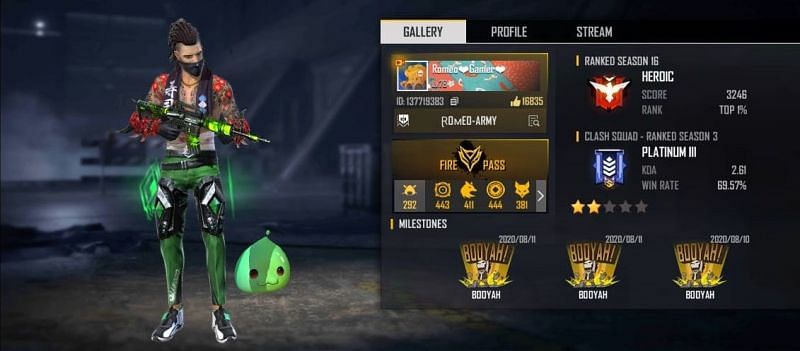 For the past few years he has been creating some amazing Free Fire content that he uploads on his 'Romeo Gamer' YouTube channel. Here we have provided you the ranked stats and lifetime stats of the popular content creator along with the details about his earnings, YouTube channel and more.
Romeo Gamer's Lifetime & Ranked Statistics
Let's start with the lifetime statistics of Romeo Gamer, the well-known YouTuber has been victorious in 896 solo matches, out of his totally played 5474 games. This makes his win rate of 16.36 per cent and the K/D ratio of 5.09 in this mode. Talking about Romeo Gamer's so far played 15353 squad games, the player has maintained 31.90 per cent win rate along with the 4.70 K/D ratio. In this squad mode of the game, the player has killed 49125 foes.
Romeo Gamer has appeared in 4388 duo games, maintaining the winning rate of 14.08 per cent after getting victorious in 618 games in this mode. The content creator has eliminated total of 14435 foes in these matches while maintained a 3.83 K/D ratio.
Now coming to the Romeo Gamer's ranked stats, the youtuber has gained victory in 513 matches in ranked squad mode of their so far played 849 matches. The player has maintained 60.42 per cent win ratio by killing 3258 foes and having a 9.70 K/D ratio. In addition to that, the Romeo Gamer has taken part in 81 duo games, in which the player has bagged victory in 32 matches in this mode. This makes his win rate of 39.50 per cent along with the 4.33 K/D ratio.
YouTube Channel, Monthly Earnings & Free Fire ID of Romeo Gamer
As of now, the Romeo Gamer has the total of 2.06 million subscribers on his YouTube channel. He joined YouTube on 14th May 2013 but started creating Free Fire related contents since June 2019. So far, his YouTube has 735 videos in total and has combined views of more than 101 million. His most recent video is uploaded 10 hours before on May 23, 2021 that has so far accumulated 110K views so far and 24K likes as well. His oldest video on Free Fire related content was uploaded one year back has gained 21K views so far.
Now talking about the monthly earnings and annual income of Romeo Gamer, the content creator is making around $2K to $32.5K every month, as per to Social Blade report. On the other hand, his annual income is estimated to be between $24.3K and $389.5K approximately. The Free Fire ID of Romeo Gamer is 137719383.