Wheelchair Bound get Vaccinated at Chandigarh Spinal Rehab: As many as 20 wheelchair bound spinal injury patients got vaccinated at the Chandigarh Spinal Rehab in Sector 28.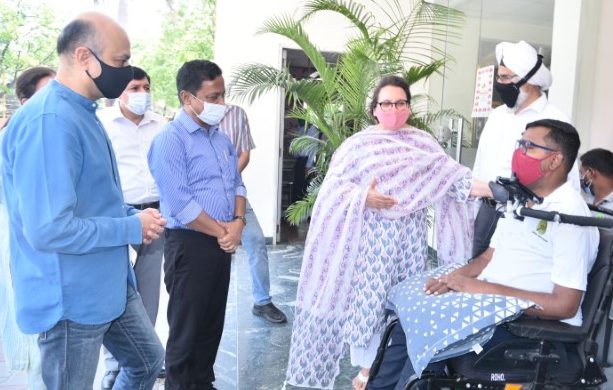 Additionally, more than 100 other staff from the Rehab Centre were also vaccinated in association with The Karan Gilhotra Foundation and Chandigarh Administration. Mr. Manoj Parida, IAS, UT Adviser was present at the event as Chief Guest. Dr Amandeep Kaur Kang, Director, Health Services, UT, was also present.
Providing the information Mrs. Nicky P. Kaur, Founder and CEO of Chandigarh Spinal Rehab said, "It was indeed a praiseworthy initiative of city resident and philanthropist Karan Gilhotra to reach out to the Chandigarh Administration requesting them to come to the centre and vaccinate our inmates and the staff. I would like to express my gratitude to VP Singh Badnore, Punjab Governor and UT Administrator, and Mr Manoj Parida Adviser for giving so much respect and dignity to these people with disabilities by arranging vaccination at the centre, as there is so much fear among them to go and get themselves vaccinated at the vaccination centres."
Chandigarh Spinal Rehab is a rehab centre for people with spinal cord injury and other neurological issues like brain injury, stroke etc.
One of the spinal injury patients, Kumaresan, who was vaccinated today, said, "As a citizen of India, it's my responsibility to join the fight against the pandemic. I request everyone to come forward for vaccination as I think this is our best protection against the virus."
Neha Gera, another patient said, "I feel very excited to get myself vaccinated for COVID, which has taken so many lives. It is very important to get ourselves vaccinated so that we can fight this deadly virus. It is our duty to get vaccinated for our own safety and that of others."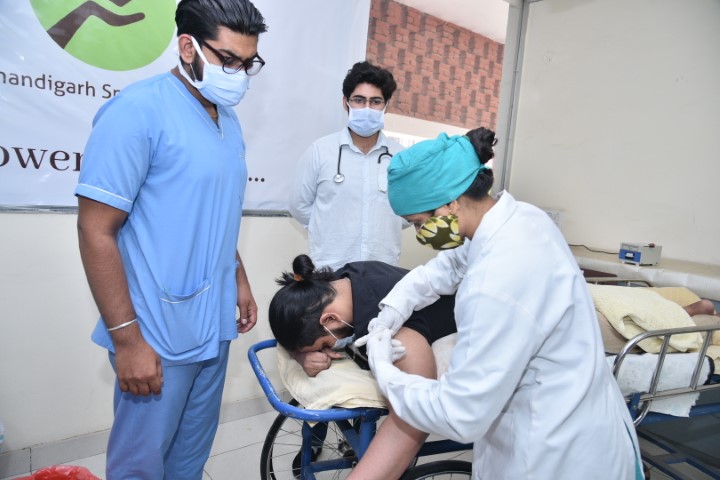 Mrs. Nicky also added that "the COVID-19 pandemic has hit everyone hard. Chandigarh Spinal Rehab too has had its share of challenges but NGO's like The Karan Gilhotra Foundation and our team of dedicated well experienced professionals and well-wishers have helped us during these most difficult times.
She further added that due to COVID, the outpatient department had to be shut down, but the in-patient rehabilitation continued against all odds."
With all COVID protocols in place, Chandigarh Spinal Rehab managed to rehabilitate around 65 persons with Spinal cord injury and brain injury during this period and continues to do so.
Motorized as well as manual wheelchairs were distributed to those in need. Tele rehab sessions and tele consultations are being conducted for those who are not able to reach in person.