Rotary Club of Chandigarh conferred the Rotary Nation Builders Award 2018 on 26 city teachers here today.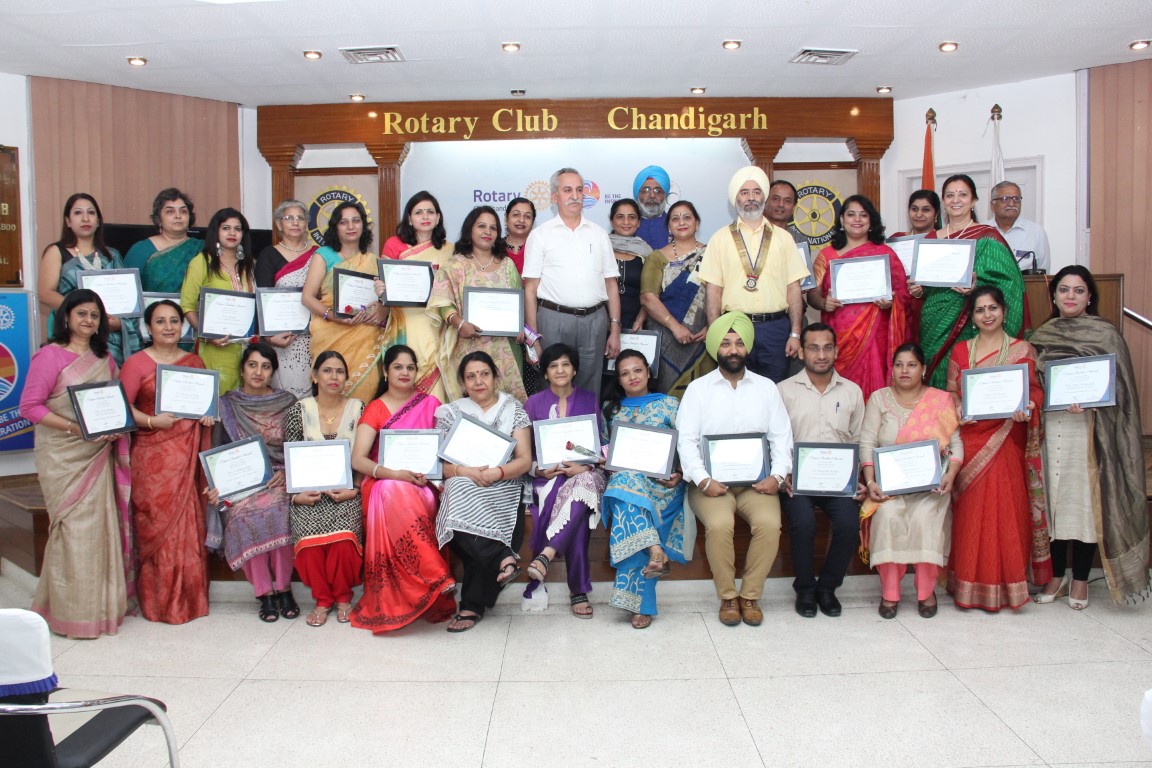 Shri B.D. Sharma, IAS, Secretary Education of the Chandigarh Administration, gave away the awards and complimented the teachers for their contribution to the nation building.
Rtn A P Singh, President of Rotary Chandigarh informed that teachers were selected from 9  government and 6 private schools in Chandigarh on the basis of their performance and internal assessment.
Each awardee, 9 from the government schools and 17 from other schools were conferred the Nation Builder Award 2018
The awardees included Paramjit Kaur, Govt. Model. Sr. Sec. School, Sector 38 (West), Mrs. Bhupinder Kaur, Govt. Model Sr. Sec. School, Sector 39; Mr. Ramesh Kumar, Government Model Sr. Sec. School, Dhanas; Baljinder Kaur, Govt. Model School, Khuda Ali Sher; Mrs. Anjula Sharma, Govt. Model Sr. Sec. School, Karsan; Narender Kumar, Govt. Middle School, Burail; Shelly Sharma, Govt. Middle School, Bapudham Colony, Sector 26; Meetika, Govt. High School, Sarangpur; Amrinder Singh Amar, Govt. Middle School, Palsora Colony;
From amongst other schools, awardees included Sonali, and Inderjeet Kaur from Guru Harkrishan Public School; Harlivleen Kaur, Kunika Sharma, Sushma Arora and Mini Puri from Bhavan Vidyalaya, Chandigarh.  Nina Pandey, Aditi Ahluwalia, Achint Kaurand Niti Singh from DPS Chandigarh; Mridula Sharma, Amrit Sharma and Usha Chadha from St John's High School; Usha Chadda and Gauri Kapoor from Sri Aurobindo School of Integral Education; Amandeep Kaur and Jaswinder Kaur from Ajit Karam Singh International Public School; Chandigarh; and Ritu Sharma of Sri Guru Harkrishan Sr. Sec. Public School.
On this occasion District Governor Praveen Chander Goyal complimented the Club and the awardee teachers, and said that Rotary India Literacy Mission is an initiative of Rotarians in south Asia to promote literacy in this entire region by encouraging teachers, promoting elearning, child development and setting up of Happy Schools.
Rotary District 3080 Literacy Chair, PDG Manpreet Singh Gandhoke, along with other senior Rotarians attended the function.