Royal Enfield's global community celebrates the 11th edition of 'One Ride 2022' with focus on Responsible Travel: On Sunday, September 18, cities across the world reverberated to the sound of Royal Enfield motorcycles, as the brand  concluded its global marquee ride that celebrates the spirit of motorcycling – the Royal Enfield 'One Ride'.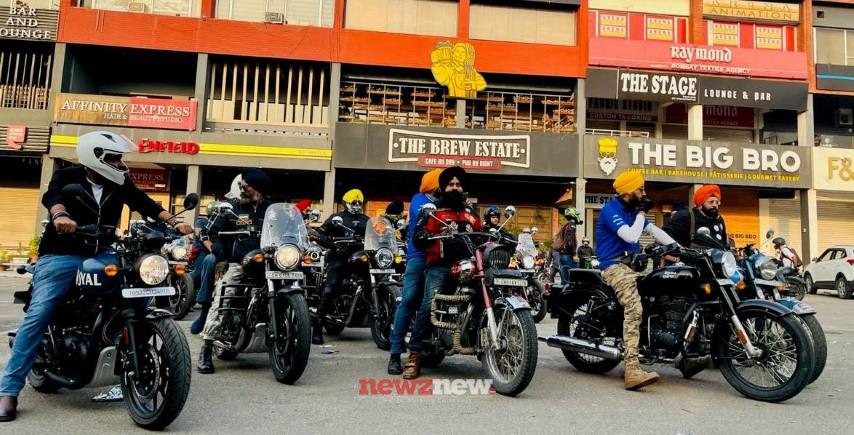 Introduced in 2011 with an aim to celebrate the passion that riders have for motorcycling and Royal Enfield, 'One Ride' was celebrated globally across 50 countries. In India, the 11th edition of 'One Ride' saw more than 15000 riders from across 500 cities, where Royal Enfield enthusiasts came out to ride together, celebrating the camaraderie and brotherhood.
'One Ride' is India's largest cause led ride where motorcycling enthusiasts of all ages from diverse regions and social identities come together for a ride that is inclusive and fiercely unique.
The ride encourages the riders to become the change agents where they are sensitized about the local ecosystem, community challenges, and opportunities to volunteer/ support them for regeneration or building resilience within the local community. The theme for this year 'One World | One Mission | One Ride' is deeply rooted towards Royal Enfield's social mission of encouraging Responsible Travel practices.
Over the past few years, Royal Enfield has made significant efforts towards encouraging riders to travel responsibly especially with its marque rides to the Ladakh region, which have positively impacted the livelihood of local communities.  This is part of Royal Enfield's larger program on promoting Responsible Travel and working with local communities at destinations that are frequented by its riders.
Recently, UNESCO and Royal Enfield forged a unique partnership to promote and safeguard the Intangible Cultural Heritage of India, beginning with the Himalayas. Intangible Cultural Heritage is directly linked to the livelihoods of the local communities. Through this partnership, Royal Enfield is working towards promoting sustainable tourism and building resilient communities.
This year 'One Ride' ride saw record participation from more than 15000 riders from across 500 Indian cities including Delhi, Bangalore, Pune, Chennai, Goa, Indore, Guwahati, Leh and others. Royal Enfield organized One Ride with the same spirit across 50 countries globally, including Argentina, Columbia, Spain, Mexico, Peru, Chile, Ecuador, France, Uruguay, Costa Rica, Indonesia, United Kingdom, Australia, Korea, Japan, Singapore, Spain, Cambodia, Thailand, Brazil, Dubai, France, Philippines, Italy, and Germany among others.
#RoyalEnfield #OneRide #LeaveEveryPlaceBetter #PureMotorcycling
Know More About Royal Enfield
The oldest motorcycle brand in continuous production, Royal Enfield has created beautifully crafted motorcycles since 1901. From its British roots, a manufacturing plant was established in Madras in 1955, a foothold from which Royal Enfield spearheaded the growth of India's mid-sized two-wheeler segment. Royal Enfields are engaging, uncomplicated, accessible, and fun to ride; a vehicle for exploration and self-expression. It's an approach the brand calls Pure Motorcycling.
Royal Enfield's premium line-up includes the recently launched, stylish new Hunter 350, the timeless Classic 350, the Meteor 350 cruiser, the 650 parallel twin motorcycles – Interceptor and Continental GT, the adventure motorcycles – Himalayan adventure tourer and the Scram 411 ADV Crossover, and the iconic Bullet 350. Riders and a passionate community are fostered with a rich profusion of events at a local, regional and international level. Most notable are Rider Mania, an annual gathering of thousands of Royal Enfield enthusiasts in Goa, and Himalayan Odyssey, a yearly pilgrimage over some of the toughest terrain and highest mountain passes.
A division of Eicher Motors Limited, Royal Enfield operates through more than 2100 stores across all major cities and towns in India and through nearly 850 stores in more than 60 countries around the globe. Royal Enfield also has two world-class technical centres, in Bruntingthorpe, UK, and in Chennai, India. The company's two state-of-the-art production facilities are located at Oragadam and Vallam Vadagal, near Chennai. Across the world, Royal Enfield has three modern CKD assembly facilities in Thailand, Argentina and Colombia. With more than 37% CAGR for the last 5 years and sales in international markets up 108% in 2021-22, Royal Enfield is the leader in the global mid-size motorcycle market.