NewZNew (Ludhiana) : The Indian Olympic Association (IOA) has announced that Edelweiss Group, India's leading Diversified Financial Services Conglomerate, will be its Principal Partner for the Rio Olympics 2016. IOA also announced Bollywood superstar, Salman Khan, along with Ace Cricketer Sachin Tendulkar and Olympic Gold Medalist Abhinav Bindra, as the Goodwill Ambassadors of the Indian Contingent for Rio Olympics 2016. Flagging off this association with IOA, Edelweiss Group announced a life Insurance cover of Rs. One Crore for all the athletes representing India at the Rio Olympics 2016 by Edelweiss Tokio Life Insurance, the life insurance joint venture of the Group. Edelweiss has had a long and consistent association with sports and through its philanthropic arm, EdelGive Foundation, has supported various sports personalities including M C Mary Kom, P V Sindhu and Ayonika Paul amongst others. Last year, the Group signed Saina Nehwal as its Brand Ambassador.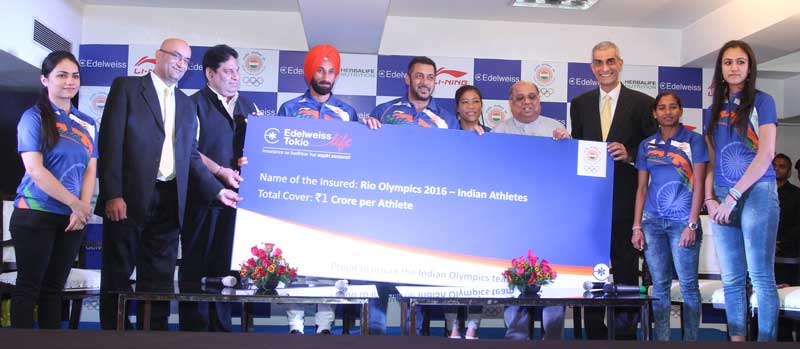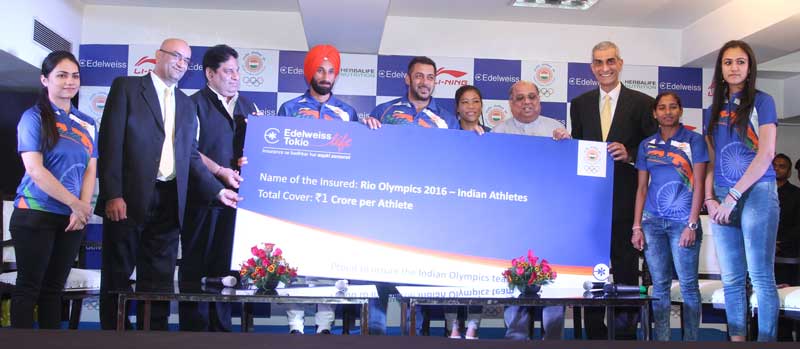 "The Olympics is an institution which brings together people from all walks of life, breaks down boundaries and lays a strong foundation based on  mutual trust and respect, said Rujan Panjwani, Executive Director, Edelweiss Financial Services, while addressing the Press Conference. "This association with the Olympics is a seamless and compelling fit. Just as High Performance and Excellence, are a key focus in sports, so is it for us at Edelweiss. An athlete rises to excel in their chosen field through years of commitment, rigorous practice, and consistent high performance, which are also the qualities that we value at Edelweiss." he added.
Speaking on this new association with Indian Olympic Association Salman Khan said "I am grateful to the Indian Olympic Association for having chosen me as the brand ambassador for Indian Contingent and it gives me great pride and honour to support Indian athletes participating in the Rio Olympic Games. I am happy that our medal tally in Olympics has been increasing from 2008 onwards, in 2004 we got only one medal while in 2008 our medal tally reached 3 and in 2012 our medal tally was doubled to 6. This time I am confident that our athletes will bring back from Rio more than double the medals we have won in 2012 London Olympics. I wish the very best to all the sportspersons and will be waiting to welcome them when they comeback with medals from Rio".
Sardar Singh, Captain Indian Men Hockey Team said "I am happy that Salman Khan has come forward to support and cheer for us during Rio Olympic Games. It's a big moment for all the athletes participating in the Rio Olympics. Our preparations for the Rio Olympics are going well and we are hopeful of a delivering our best results this time."
Till date 75 Indian athletes in 8 disciplines have qualified for the Rio Olympic Games and many more likely to qualify in the next two months.
Commenting on the announcement N Ramachandran, President Indian Olympic Association said "We welcome Salman Khan as the Brand Ambassador of the Indian Contingent for Rio Olympics and his association is in line with our focus to create the required excitement in the country. His association will not only attract sports lovers but even excite the players to do well in the Olympics. We are sure our association with Salman Khan will go a long way"
N Ramachandran, President and Mr. Rajeev Mehta Secretary General Indian Olympic Association also presented an official jersey to the superstar actor Salman Khan and felicitated him.
Speaking on this occasion Rajeev Mehta, Secretary General Indian Olympic Association said "We are happy to have Bollywood superstar Mr. Salman Khan on board as our brand ambassador. I am sure his association with IOA for Rio Olympics will boost morale of Indian athletes during Olympics. I would also like to welcome Edelweiss as our Principal Partner and Li-Ning as an Apparel Partner for Rio Olympics. The preparations of our Indian athletes are in full swing and i am hopeful that India will win maximum medals this time."