High level bridges worth Rs. 66 crore will be constructed in the state.
High level bridge worth Rs. 3 crore 41 lacs 44 thousand at village Jagatpura inaugurated by Minister PWD.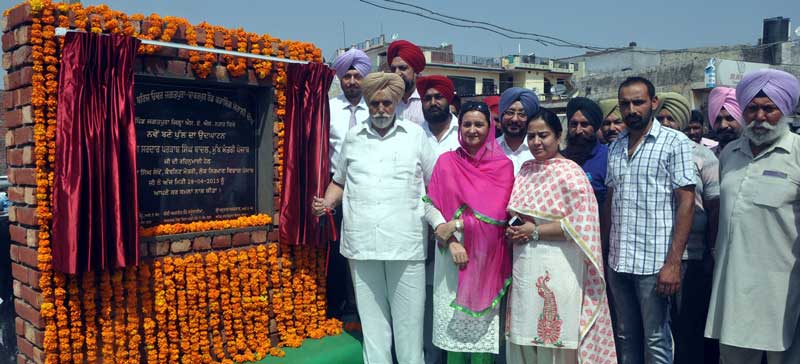 NewZNew (S A S Nagar) : With a motive to provide better commuting facilities to the rural population of Punjab, The Govt. has decided top spent Rs. 700 crore for the repair & renovation of rural roads. This was stated by Minister PWD Sh. Janmeja Singh Sekhon while addressing the press after inaugurating the high level bridge worth Rs. 3 crore 41 lacs 44 thousand constructed at Mohali rivulet at village Jagatpura.
PWD minister said that since the progress of any nation depends on its infrastructural development as such, Govt. of Punjab is eagerly working for improvement of its roads network in the state. He said that Rs. 66 crore will be spent for constructing high level bridges in the state, which will be proving more beneficial to the rural population and will also prove saving in time money & efforts.
PWD Minister said that the old bridge constructed at Mohali rivulet was in very weak state and due to its feeble condition; it was always prone to accidents. As such keeping in view the demand of people, the high level bridge is constructed at here. This high level bridge has facilitated the residents of more than 45 villages. As such, now besides going through Chandigarh, it is possible to go Zirakpur and Dera Bassi through Jagatpura. He said that the bridge spanning to 182.43 feet & 42 feet wide has been constructed with modern techniques, which could withstand the heavy stream flow during monsoon season.
During this, Chairperson District Planning Committee Bibi Amanjot Kaur Ramuwalia said that the credit for construction of Jagatpura Bridge goes to the endless efforts of Chief Minister Punjab & Deputy Chief Minister Punjab. With this bridge people of Mohali could commute easily. During this, additional deputy commissioner Smt. Poonamdeep Kaur, Superintending Engineer PWD Arvinder Singh, Executive Engineer PWD Sh. Gursewak Singh Sangha, Councillor Parminder Singh Sohana, Member Zila Parishad Sh. Gurmeet Singh Bakarpur, Sh. Baljeet Singh Jagatpura, Gyan Singh Dharamgarh, Gurikbal Singh, Harmesh Singh Kumbhran and other officials of PWD were present.