RUSA's Capacity Building Workshop on "Digitised libraries held : Library of DAV College,Sector-10, Chandigarh organized a Capcity Building Workshop on "Digitised libraries: redefining learning" under the aegis of RUSA.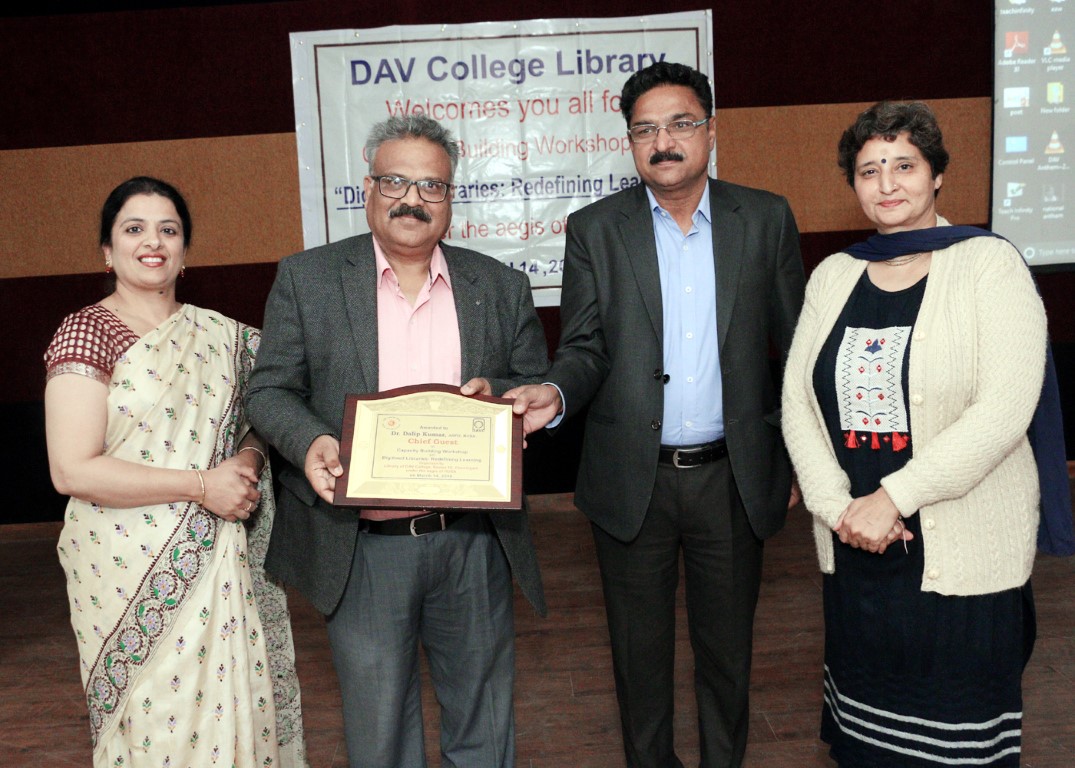 The Chief Guest of the event was Dr. Dalip Kumar, ASPD, RUSA under whose able guidance the recommendations of RUSA for enhancing the technological infrastructure of Chandigarh libraries has seen the light of the day. He is also the person who facilitated the release of brochure entitled "Insight to library resources of Chandigarh colleges".
He in his inaugural address shared the vision of establishing a Chandigarh Digital Library. Principal of the college Dr. Pawan Sharma lauded the role of RUSA in upgrading the technological infrastructure of the college Library. He assured of providing and advanced infrastructure and more efficient services to the faculty and the students of the college.
Deepti Madaan Librarian of the college gave a glance of the add-ons in the library provided by the financial assistance of RUSA. She also apprised the audience about the theme of the Workshop in the light of on going tech-driven changes in the domain of academics. The two sessions were organized in the workshop.
In the first session the resource person Dr. Rupak Chakravarty gave a lecture on Open Educational resources bridging the knowledge divide. He in his presentation highlighted the concept, features, need and benefits of OER. Also discussed were various global OER Databases and Indian initiatives in this context. Second session of the workshop was on National Digital Library of India- a national knowledge asset.
It was delivered by Dr. Neeraj Kumar Singh. He in his presentation highlighted the vision and mission of NDL, its resources and the way the faculty members and the students can become the member of NDL. The workshop concluded with discussions and questions answers.